The Crooked Way
(1949)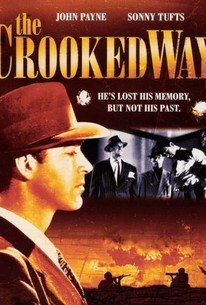 AUDIENCE SCORE
Critic Consensus: No consensus yet.
Movie Info
Postwar films were festooned with amnesiac ex-GIs who found themselves mixed up with crime. In The Crooked Way, John Payne plays memory-deficient veteran Eddie Rice, who runs afoul of mobster Vince Alexander (Sonny Tufts) and police inspector Lt. Williams (Rhys Williams). Both the crooks and the cops seem to have good reason to despise Rice, and he'd like to find out why. He won't get any help from his wife Nina (Ellen Drew), however, since she is as hostile towards Rice as everyone else. Gradually, Rice puts the pieces together and discovers that he's far better off not remembering his former self. Film noir habitues Percy Helton, John Doucette and Greta Grandstedt are eminently suited to their minor roles. The Crooked Way was based on "No Blade Too Sharp", a radio drama by Robert Monroe.
Critic Reviews for The Crooked Way
Audience Reviews for The Crooked Way
The Crooked Way is a minor work of film noir genius that could've really been amazing with a little work on the script and some better casting. The premise is great. An amnesiac WWII vet comes back to LA with a piece of irremovable shrapnel in his head and no memory of his former life. Turns out he was a mobster who screwed over his former partner to stay out of jail and liked pimping out his wife. Needless to say, some chickens come home to roost. Picture a less compelling version of Memento. The direction's pretty decent but in tandem with the cinematography, this is where The Crooked Way really shines. Ellen Drew was pretty good but I never really bought John Payne as the lead because I just kept thinking of him in Miracle on 34th St and the rest of the cast is comprised of people with cartoony voices. The low budget look adds to the grittiness but despite how much The Crooked Way was lacking (mainly with an uneven story and some bad bouts of poorly-executed internal monologue) it could've been a hell of a lot worse...
Michael Gildea
Super Reviewer
The Crooked Way Quotes
There are no approved quotes yet for this movie.