The Crow: Wicked Prayer
(2005)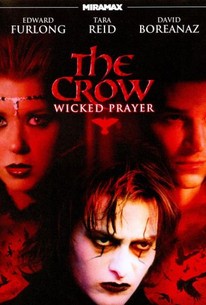 The Crow: Wicked Prayer Photos
Movie Info
When an ex-con and his girlfriend are viciously murdered by a satanic biker gang, the spirit of vengeance returns once again to mete out justice from the afterlife in this entry into the gothic action Crow series. Jimmy Cuervo (Edward Furlong) is finally out of prison, and with the help of his girlfriend, Lily (Emmanuelle Chriqui), he hopes to straighten out his life and leave his criminal past behind. When the pair are brutally slaughtered by a savage gang of evil bikers, the injustice of their death awakens the vengeance of The Crow -- a supernatural force that allows Jimmy to return to life and seek revenge so that he may be reunited with Lily in the afterlife.
News & Interviews for The Crow: Wicked Prayer
Critic Reviews for The Crow: Wicked Prayer
Audience Reviews for The Crow: Wicked Prayer
This was poor, a real let down for the series. The whole look was so tacky, straight to video shop fodder and it looked cheap too. Furlong just isn't right here, he looks like a sulking teen emo outta high school. The rest of the cast are video shop D-listers, Hopper there to try and save it but can't. There are some nice ideas but it looks like it was whipped up so quickly, it should be so much better, there's also the comic book no no here, they have dumbed it down for the mass audience eg.teens and kids, meaning the violence, horror, goth and swearing aspect is all cleaned up and swept away for a more friendly look. So many good ideas have died this way.
Phil Hubbs
Super Reviewer
A little history before I start my review. Director Alex Proyas and the late (and great) Brandon Lee unleash the film "The Crow" onto the masses. A dark, Gothic and tragic tale of love, hatred, violence and redemption, the original "Crow" was a masterpiece and one of my favorite films. It was of course based on the comic by James O'Barr, and was soon followed by two sequels over the next six years. The studio tampered sequel "The Crow: City of Angels" in 1996, and the decent but somewhat cliché "The Crow: Salvation" in 2000. (A television series also followed, but has become more or less forgotten.) After the poor critical and fan reception of "City of Angels", and some early negative screenings on "Salvation", the series deteriorated and was reduced to direct-to-DVD status. By this point, it is obvious that producers and studios who didn't take the material seriously are to blame for the rapid downfall of what could have been a decent franchise. And then- in 2005- the fourth film, the direct-to-DVD stinker "The Crow: Wicked Prayer", was released. Sporting abominable, black-and-white clichés and plotting, along with bad storytelling, this movie literally is oozing the words "low-budget feature with inexperienced crew." So basically, here's the story: Jimmy Cuervo (Edward Furlong... emerging from where ever he's been hiding in an alright performance) is a convicted criminal who accidentally killed a would-be-rapist in the past. Though despite the fact that he valiantly saved a young woman, the town inexplicably treats him horribly for being a killer. It makes no sense, but whatever. He plans on leaving the town of Lake Ravasu, which sits on a Native Reservation, with his girlfriend Lily, a native from the Raven Aztec tribe that inhabits the area. At least once his probation is up. Unfortunately, a figure from his past- Luc Crash (David Boreanez in the film's only truly good performance), has other plans. Luc and his gang of criminals (including actress Tara Reid, MMA fighter Tito Ortiz and others) need two sacrifices to start an unholy and sadistic ritual, which will transform Luc into the devil, should he complete a couple of other tasks. And, you guessed it, they choose Jimmy and Lily. Blah, blah, blah, later that night, a crow brings Jimmy back, he figures out his powers and must go on the hunt for Luc and his crew- now not only for vengeance, but also to save the world. Yes, it is that silly. Now, onto some of the" finer" points of this movie -Laughable plot-points and visuals. When silly-looking "6"'s begin appearing all over David Boreanez, you should have already doubled over from laughter. This follows on the heels of one of the silliest (and lamest) opening "suspense" sequences ever (which introduces all of the bad-guys, accompanied by silly text-screens that supply us with information the writers were too lazy to work into the actual plot), and the murder of Jimmy and Lily in the beginning, in a scene with no suspense or drama whatsoever. The scenes are very amateurish in the way they are shot, and look quite cheap, with lighting more appropriate for a TV comedy than a gritty and dark tale of vengeance and romance. -Off-Balance Acting. This film has some good faces in it- it even sports Dennis Hopper (yes, DENNIS HOPPER!) as an old, white pimp who obviously has watched too many rap-concerts and likes to think he's from "the streets." But other than Boreanez, nobody is really on the top of their game. Furlong is acceptable, but looks like he's in over his head trying to pull off a tragic and supernatural lead, Tara Reid is kinda whiny and annoying, Hopper is underused and over-the-top, and Tito Ortiz is only okay. The other actors I didn't mentioned are given nothing to do, and come off as bad, despite some of them being talented. -No effort given for effects and coherency. If you can somehow make it past the silly acting and lame-brained script, then the effects and general continuity should do it in for you. Many shots of the crow (who is also given almost nothing to do) are taken from the other films, and the dirt-cheap budget hampers any coherency. On my first viewing, I spotted over 100 mistakes in the film, simply because I become bored and started to count flubs rather than pay attention. The effects, if you want to call them that, are equally cheap. It really took me out of the film. All that being said, there are a few good scenes, and the film is laughable enough to warrant a viewing should you catch it on TV. I'm sorry at the state the series is in but it does seem like in the end they're were one to many trips to the well along with studio budget cuts and lack of creativity ( Why not have a female be brought back for a change of pace?) Hopefully this will be the last one until someone can do something worthwhile with this series
David Ladd
Super Reviewer
A hard movie to rate. It's very obviously shit. Anyone can tell you that much. Just look at that cover. Despite it's poor quality it at least tries to be a bit different and give The Crow a bit more depth. First of all the large gothic city setting is long gone. Now it is set in a small town with skyscrapers replaced by deserted landscapes. It's interesting at first, seeing such a bright Crow film. Then it just becomes confusing. I understand that in the first Crow film Brandon Lee's character was in a rock band. His image suited his persona before his death. Edward Furlong walks around looking very out of place and it's just peculiar. The film gives us a whole 30 minutes to get to know our future crow before his inevitable death. Good idea. The previous films chucked us straight into the action. It gives Furlongs later lust for revenge more weight and understanding. Unfortunately before this was a bizarre introduction to the bad guys. Freeze frames, corny names, it was like some kind of western B-movie. The performances barely deserve a mention apart from Dennis Hopper. He shows up in some club talking like a stereotypical black man. Apparently Satan is the original gangster or something. It was hilarious and embarrassing. Macy Gray was there too. Reading that back it sounds like some twisted dream. The Crow - Wicked Prayer is pretty similar to a joke about somebody you respect that has just died. It may be fairly chucklesome, but it is in poor taste. After thinking about it, it's simply insulting.
Luke Baldock
Super Reviewer
The Crow: Wicked Prayer Quotes
There are no approved quotes yet for this movie.