The Crowd Roars
(1932)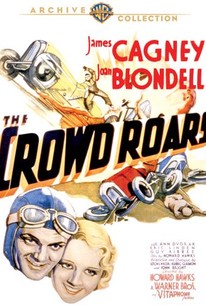 Movie Info
Auto racing and the Indy 500 provide the framework for this sports drama. Joe Greer is a professional driver who tries, unsuccessfully, to keep his younger brother away from the often seedy racing scene. Eddie, the kid brother, does not listen to his brother and finds himself involved with a hussy. The two brothers vent their anger on the track. Unfortunately Joe's pal Spud Connors dies while trying to keep the brother's speeding cars from hitting each other. The distraught Joe gives up racing in favor of alcoholism. It is only after his brother is hurt during the Indy 500 that he again takes the wheel. Quickly, the older brother takes over his brother's car and wins.
Critic Reviews for The Crowd Roars
Audience Reviews for The Crowd Roars
½
Fans of auto racing should like this one. There is lots of footage of old racing showing various crash scenes, drivers careening around tracks in cars without roofs (going through clouds of dirt!), and occasional fires on the track. Billy Arnold, Fred Frame, and many other real race drivers appear in the film, and there are scenes from Indianapolis, which had been racing the 500 since 1911. There is also a love story, though this is a Cagney-Blondell film in which the two are adversaries. Cagney is a race car driver who doesn't want to marry his girlfriend with benefits (Ann Dvorak), Blondell's friend, taking her for granted. He has a younger brother (Eric Linden) who also wants to race cars, and he hypocritically wants to protect him from booze and "loose women" like Dvorak and Blondell. Things get complicated when his brother falls for Blondell, and tragic when he causes the death of a fellow driver. This is not great cinema or anything, but it does have Cagney/Blondell, and an interesting story line, and it's unique with all of the vintage auto racing.
Antonius Block
Super Reviewer
The Crowd Roars Quotes
There are no approved quotes yet for this movie.