The Crowded Sky
(1960)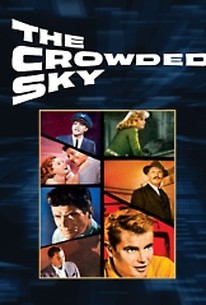 AUDIENCE SCORE
Critic Consensus: No consensus yet.
Movie Info
A navy jet piloted by Captain Dale Heath (Efrem Zimbalist Jr.) and carrying an enlisted man (Troy Donahue) has already taken off when Heath realizes that both his radio and his navigation equipment have malfunctioned. They might be on the right course, but he can't tell if they're at the right altitude -- 500 feet too high or too low would put him in the path of a plane headed in the opposite direction -- and he can't get through to ground control to get a fix. Heath is quietly terrified at the prospect of what may happen, not just for the obvious reason but also because he's experienced this situation once before and saved himself at the cost of the other plane and its crew. Meanwhile, flying in the opposite direction on the same course is a DC-7 commercial airliner flown by Dick Barnett (Dana Andrews), a veteran pilot, and carrying a full load of passengers, each with their own worries. Much of the first 85 minutes of this thriller is devoted to the passengers and crew of the airliner struggling with their personal problems, told in extensive flashbacks. Both Barnett and Heath have their personal trials, the latter including an unhappy marriage to a faithless wife (Rhonda Fleming); Barnett's troubles are more complicated, and concern long-time problems with his co-pilot, Mike Rule (John Kerr), whose own personal conflicts involve his artist father, his own conflicting love of flying and art, and his relationship with head stewardess Anne Francis (who never looked better than she does in this movie). The extensive flashbacks will push the patience of modern audiences almost to the breaking point, but they do pay off -- and except for the archaic late 1950s slang (which, ironically, was intended to make the movie seem up-to-date) that litters the dialogue, and a silly subplot involving a Broadway method actor on his way to Hollywood, the material is worth watching, despite the soap-opera-ish elements, as the suspense gets ratcheted up gradually. The movie piles on hints and clues (some of them false) about the impending danger that turn the last 20 minutes or so into a neat cinematic thrill-ride for its time. ~ Bruce Eder, Rovi
Critic Reviews for The Crowded Sky
Audience Reviews for The Crowded Sky
½
Overwrought and with clunky special effects this is a still entertaining precusor to Airport and all it's many follow-ups.
The Crowded Sky Quotes
There are no approved quotes yet for this movie.