The Curse
(1987)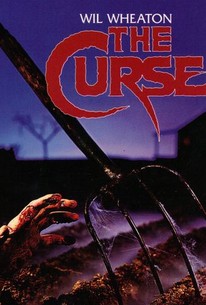 AUDIENCE SCORE
Critic Consensus: No consensus yet.
Movie Info
The family of a young teenager (Wil Wheaton) is transformed into zombies when a meteorite crashes into the water reservoir of a farming community. The film shares little with the others in the series, and was originally titled The Farm.
Critic Reviews for The Curse
All Critics (3) | Top Critics (1) | Fresh (2) | Rotten (1)
If you need to see the worms, sores and nasty oozing glop for yourself, they're at the Criterion and other movie houses.
...a fine premise that's employed to increasingly unwatchable and flat-out incompetent effect by director David Keith...
"The Curse" works in spite of its troubles, a creeping paranoia enveloping Zack and younger sister Amy as the rest of their family take monstrous turns.
Audience Reviews for The Curse
½
This sci-fi horror film adapting H.P. Lovecraft's short story "The Colour Out of Space" freaked me out and it's pretty creepy. There were parts where you could tell it was fake, then other times things looked real. Good performances by most of the cast. Paces moves along. Some nice shots of the Tennessee landscape. Good make-up and gross out effects. Director David Keith loosely not only vividly evokes a thick and pungent down-home hillbilly atmosphere, but also does an expert job of creating and sustaining a spooky and unnerving tone.
Dean McKenna
Super Reviewer
½
This movie starts out kind of boring, but it gets better as it goes on. It's especially exciting at the climax. It might seem weird or confusing at times, but it's pretty good in the end.
½
As a very loose adaption of Lovecraft's short story "The Colour Out of Space', it sucks. As a low budget 80's sci-fi/horror hybrid, it sucks. Bottom line: it sucks. And it's boring. I'l stick with the completely unrelated and very underrated sequel, Curse II: The Bite.
A.D. Villarreal
Super Reviewer
The Curse Quotes
There are no approved quotes yet for this movie.