The Curse of the Fly
(1965)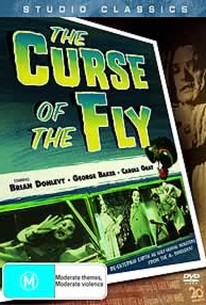 AUDIENCE SCORE
Critic Consensus: No consensus yet.
The Curse of the Fly Photos
Movie Info
This horror movie, the third and final entry in "The Fly" series, features a failed teleportation device, a mad scientist, a fugitive from a looney bin, and a closet full of mutants. The trouble begins again after a young woman escapes from a mental institution and ends up at the home of the Delambre family. There she finds the family leader continuing his experiments in using a machine to teleport people from one place to another. She also finds his handsome son whom she marries. After she discovers a closet filled with failed teleportation experiments, the police are notified. The crazed scientist tries to use his machine. Again it fails and all that remains of the mad inventor is a gooey blob. ~ Sandra Brennan, Rovi
Critic Reviews for The Curse of the Fly
Audience Reviews for The Curse of the Fly
Tries to do something different, but it doesn't work. Very forgettable.
Marcus Woolcott
Super Reviewer
½
If you thought the Return of the Fly was bad, see this movie, it's worse. The story makes no sense and the characters don't either. Even if you liked Return of the Fly, skip this third movie. Price isn't even in this one, so what other reason is there to see it?
½
I wasn't too impressed by "Return of the Fly", but it still fascinated me! When I learnt that there was a third one, I was quite intrigued to see it. I just watched it for the first time on DVD, and I was quite impressed on how smart the story was, and even though there is no Human-Fly monster in it (which, to be honest, is a smart approach), I thought it was more clever to base the movie around the Delambre legacy, rather than focus on the whole "man gets gene-spliced with a fly" blah blah blah! To be honest, I was expecting something REALLY dreadfully cheesy, but surprisingly, I loved it! The visuals (especially, the opening credit sequence, very well thought up!), and the originality of it is superbly done! It's got the classic horror movie style down perfectly! True its not as frightening as say... Alien, but, for its time (1960s), the mutant make up and story are very well sorted! TOTALLY UNDERRATED!
Cassandra Maples
Super Reviewer
The Curse of the Fly Quotes
There are no approved quotes yet for this movie.