The Cutting Edge: The Magic of Movie Editing
(2006)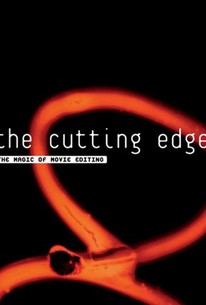 AUDIENCE SCORE
Critic Consensus: No consensus yet.
The Cutting Edge: The Magic of Movie Editing Photos
Movie Info
The Cutting Edge: The Magic of Editing teaches the viewer how editors compile strips of film in order to create memorable moviegoing experiences. In addition to interviews with a variety of respected and award-winning editors, the movie offers clips form some of the most memorable films in the history of the artform.
Critic Reviews for The Cutting Edge: The Magic of Movie Editing
All Critics (3) | Fresh (2) | Rotten (1) | DVD (2)
...an informative primer on an aspect of the movie business most people rarely think about...
Um bom início para aqueles que não compreendem a extensão da importância da montagem, o documentário acaba se revelando óbvio para os cinéfilos mais aplicados (incluindo as cenas citadas, sempre óbvias); e é curioso que ele mesmo seja tão mal montado.
March 20, 2007 | Rating: 2/5
If you're a filmmaker or an aspiring critic, it may well be essential viewing.
September 17, 2005 | Rating: 3.5/5
Audience Reviews for The Cutting Edge: The Magic of Movie Editing
½
Fascinating documentary about a field that, at first glance, doesn't seem very interesting (it is). The Cutting Edge demonstrates the importance of an editor, the unsung hero of the film industry, without overly glorifying the profession. Kathy Bates narrates and movie icons such as Spielberg, Scorsese, Tarantino, Jodie Foster and Sean Penn share their point of view. Goes to show that a documentary that's, in a very big way, educational, can also be very entertaining.
Fernando Rafael Quintero Castañeda
Super Reviewer
[font=Century Gothic]"The Cutting Edge: The Magic of Editing" is a mildly interesting documentary about the art and history of film editing, starting with its invention which made narrative films possible. It is fascinating that women were many of the pioneers in this field. Film clips are shown, of course, along with directors and editors discussing their special relationships.(I would have liked to have seen a director like John Sayles who edits his own films, so I could compare approaches.) And there is also footage of veteran editor Walter Murch working on "Cold Mountain." What the documentary describes is how an editor shapes a film through pacing and how the editing can manipulate an audience which can be both bad and good. "Schindler's List" is an example of a movie where the audience is told what to feel while Michael Haneke excels by constantly challenging the audience's expectations.[/font] [font=Century Gothic][/font] [font=Century Gothic]However, the documentary is sadly only told from the viewpoint of Hollywood films with nothing about foreign or independent films(Nothing on "Memento."), except as innovators like Vertov, Godard and Eisenstein.(And as long as we're talking innovators, where's "Citizen Kane?") For example, there is a huge difference in the pacing between "What Time Is It There?" and "Moulin Rouge"(2001) which was apparently edited in a wood chipper. Yes, digital effects are neat toys but they are no substitute of the humanity of real actors. And it does not touch on the thorny subject of where a film is taken out of a director's hands and re-edited without his permission.[/font]
Excellent documentary on the medium.
Tim Salmons
Super Reviewer
The Cutting Edge: The Magic of Movie Editing Quotes
There are no approved quotes yet for this movie.