The Dam Busters
(1954)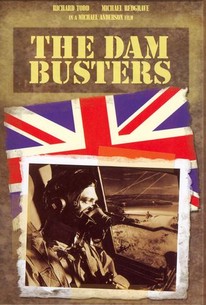 Movie Info
The British film tells the story of the development and utilization of the "bouncing bombs" in WWII. Michael Redgrave stars as Dr. Barnes Wallis, who developed these unorthodox explosives. Most of the film is devoted to the two years spent in creating the bombs and training the pilots.
Critic Reviews for The Dam Busters
Audience Reviews for The Dam Busters
I love films that combine my passion for WWII history with my passion for cinema.
Randy Tippy
Super Reviewer
This isn't a bad movie, it's just boring, it would work better as a documentary or something because as a narrative film it's too boring.
In "The Dam Busters," Barnes Wallis(Michael Redgrave), a research scientist at Vickers during World War II, and his doting wife(Ursula Jeans) do not so much raise their children, as breed them to be his lab assistants. His latest experiment involves a way to bomb the dams of the Ruhr Valley which could potentially cripple Germany's steel production. The high command is about to give up on this and let him play with his expensive toys somewhere in Scotland when he has a breakthrough. Even after a successful test with live aircraft, approval is slow in coming. But once it does, Wing Commander Guy Gibson(Richard Todd) is put in charge of the mission. Based on a true story, "The Dam Busters" is a gripping tale of dogged determination in the face of adversity during wartime, taking the viewer through all the stages of a military mission from planning to completion. At the heart of it is the contrast between two men, Wallis, the thinker, and Gibson who implements the plan. Gibson does not contemplate what he has been ordered to do because on the surface it is quite insane and impossible. As a veteran of many bombing sorties, he knows he cannot afford to be emotional during a war which has its many peaks and valleys, not to mention down time.