The Dark Backward
(1991)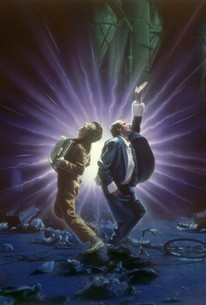 Movie Info
A garbage man (Judd Nelson) dreams of working as a stand-up comedian, but can't seem to get a laugh until he grows a third arm out of his back.
Critic Reviews for The Dark Backward
Audience Reviews for The Dark Backward
½
A spectacularly unfunny comedian finally find success--sort of--when an arm begins growing out of his back. Bizarre, hard-hearted black comedy in the spirit of John Waters. Form follows plot premise: if you can't be funny, you can at least be grotesque enough so people won't be able to look away.
½
A dark comedy for fans of the bizarre.
Anthony Valletta
Super Reviewer
Judd Nelson is Marty, a garbage collector (or sanitation engineer, whichever you prefer) who moonlights as a stand-up comedian. Bill Paxton is a true sleaze-ball of a friend/agent that decides exploiting a third arm that has grown out of Marty's back is a sure shot way to achieving stardom. The dude has a third arm growing out of his back and that's not even the main part of the plot. This is a truly bizarre movie with Judd Neslon in a role like most have never seen him in. I really hate comparing to other films, but the easiest way to describe it is the dark surrealism of Naked Lunch with the dark humor of The King Of Comedy. If there was ever a film developed solely for a cult audience, it's this one. Sometimes that's a good thing, sometimes it's a bad thing. I hated this movie the first time seeing it. The next evening, I watched it again.
El Hombre Invisible
Super Reviewer
The Dark Backward Quotes
There are no approved quotes yet for this movie.