The Dark Hours
(2005)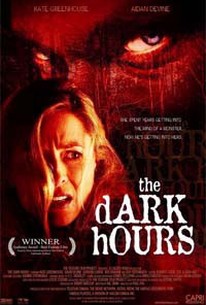 Movie Info
A woman's mistakes come back to haunt her in a terrifying and very literal manner in this thriller. Dr. Samantha Goodman (Kate Greenhouse) is a clinical psychiatrist who works with patients at an institution for the criminal insane in Canada. Things have not been rosy for Sam lately -- she's been violently attacked by one of her patients, her marriage to husband Dave (Gordon Currie) is in bad shape, and she has an inoperable brain tumor that's growing at an alarming rate. Sam needs a weekend away from the city, but what Dave has set up isn't especially relaxing for her -- a short holiday at a cabin in the woods, where Dave will be working on editing his latest book with the help of Melody (Iris Graham), Sam's younger and more attractive sister. As Sam watches sparks begin to fly between her sister and her husband, Harlan Pyne (Aidan Devine) and his friend Adrian (Dov Tiefenbach) break into the cabin and announce their presence by shooting Sam's pet dog. Harlan is a convicted sex offender and murderer who was placed under Sam's care in the institution and wasn't happy with the experimental treatment he received; having escaped, he and Adrian have tracked her down and decide to take revenge by forcing Sam, Melody, and Dave to participate in a series of strange and humiliating games -- at gun point. The Dark Hours was the first feature-length film from director Paul Fox, who previously distinguished himself working on a number of successful Canadian television series.
Critic Reviews for The Dark Hours
Audience Reviews for The Dark Hours
Ho boy. Don't look for any great indie revelation regarding the psychological thriller. Expect what you would anticipate in a film of this genre..with nothing special.
John Ballantine
Super Reviewer
MisterYoda ?
Super Reviewer
I was confused. What of all that really happened? Movies like this just make me mad. I'll admit, this had some pretty stunning moments here and there. However, the rest of it was ruined by absolute confusion...
Cynthia S.
Super Reviewer
The Dark Hours Quotes
There are no approved quotes yet for this movie.