The Dark Knight
(2008)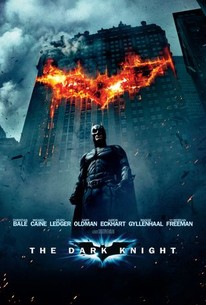 TOMATOMETER
AUDIENCE SCORE
Critic Consensus: Dark, complex, and unforgettable, The Dark Knight succeeds not just as an entertaining comic book film, but as a richly thrilling crime saga.
Movie Info
Christopher Nolan steps back into the director's chair for this sequel to Batman Begins, which finds the titular superhero coming face to face with his greatest nemesis -- the dreaded Joker. Christian Bale returns to the role of Batman, Maggie Gyllenhaal takes over the role of Rachel Dawes (played by Katie Holmes in Batman Begins), and Brokeback Mountain star Heath Ledger dons the ghoulishly gleeful Joker makeup previously worn by Jack Nicholson and Cesar Romero. Just as it begins to appear as if Batman, Lt. James Gordon (Gary Oldman), and District Attorney Harvey Dent (Aaron Eckhart) are making headway in their tireless battle against the criminal element, a maniacal, wisecracking fiend plunges the streets of Gotham City into complete chaos. ~ Jason Buchanan, Rovi
News & Interviews for The Dark Knight
Critic Reviews for The Dark Knight
Audience Reviews for The Dark Knight
Daniel J DeMersseman
Super Reviewer
½
While lots of people felt it as one of the greatest movies ever, I found it just like any other "one-time watch" movie. EDIT: Apparently, I don't re-rate a movie every now and again. But I gotta take this exceptional step for an exceptional flick. Previous rating was 3/5 with the comment typed above this paragraph. However, now I'd like to change it to follows: On my first viewing, I didn't like it much, but the feelings turned in its favor after watching it thereafter. In fact, when I first watched it, I found it just a bit better than any mediocre movie. Maybe my mood influenced my ability to enjoy it. Happens with me less often than not. However, now I watch it every once in a while (although the viewing habit has changed from every other day to every once in a while, the impression remains) for chilling entertainment. So now the rating rises to 4.5/5. Excellent dialogues, incredible acting, and, of course, an outstanding execution deserve that in the least. Haven't had a change of heart for the final part as yet.
familiar stranger
Super Reviewer
½
Let's open this review with the fact that Batman is THE BEST superhero ever, with no other even coming close to his levels. So when a sequel is made for an unforgettable movie like "Batman Begins" expectations are EXTREMELY high. I think that if you could describe this movie in a few words it would be "152 minutes of pure awesomeness." Christopher Nolan probably created the best ever comic book adaptation of a movie. The movie itself has been adapted in a much more realistic fashion than the comic book series. First of all this movie is PERFECT for people who like punches, drama, shooting and explosions. The movie has a complicated plot that keeps your eyes glued to the screen. It's anything BUT corny, since a few important characters die, and the ending isn't happy, but it's flawless. Christian Bale has proved himself one again as an amazing actor. Michael Cane (portrays Alfred Pennyworth) makes you fall in love with Batman's loyal butler. Now anyone that has seen the movie and is reading this review is probably wondering why I haven't mentioned the main reason why this movie is flawless. And yes, there is ONE main reason: Heath Ledger. Heath Ledger portrayed Batman's arch nemesis in this movie: the Joker. Now anyone who has a clue in comic books knows that the Joker is INCREDIBLE. Heath Ledger's acting in this movie has turned the Joker into a LEGEND. I have never seen such perfect and realistic acting than the portrayal of the Joker in this movie. The Joker is portrayed in a much more mature fashion than the comic books, and that's why it was so good. It's simply impossible to describe him: he's bold, insane, smart, twisted and he's so awesome in this film that at some points you love him even more than Batman. If I haven't mentioned it by now, this is without a doubt the best movie I have seen.Those who come with high expectations after seeing "Batman Begins" will not be disappointed. I advise that no one under the age of 11 watches this movie as Two-Face's appearance is rather frightening and the film contains intense action. 4 1/2 Stars 11-15-13
Bruce Bruce
Super Reviewer
The Dark Knight Quotes
| | |
| --- | --- |
| The Joker: | Enter quote here...Madness, as you know, is like gravity, all it takes is a little push. |
| The Joker: | Madness, as you know, is like gravity, all it takes is a little push. |
| | |
| --- | --- |
| The Joker: | Ya wanna know how I got these scars? My father; was a drinker; and a fiend. And one night, he goes off craazier than usual. Mommy grabs the kitchen knife to defend herself. He doesn't like that. Not. One. Bit. So, me watching, he takes the knife to her, laughing while he does it. He turns to me and say, "Why so Serious?". He comes at me with the knife. "Why so serious?". Sticks the blade in my mouth. "Let's put a smile on that face!". Aaaaaand. (Turns to hostage behind victim) "Why so serious?" (cuts victim's mouth) |
| The Joker: | Ya wanna know how I got these scars? My father; was a drinker; and a fiend. And one night, he goes off crazier than usual. Mommy grabs the kitchen knife to defend herself. He doesn't like that. Not. One. Bit. So, me watching, he takes the knife to her, laughing while he does it. He turns to me and say, why so serious? He comes at me with the knife. Why so serious? Sticks the blade in my mouth. Let's put a smile on that face! Aaaaaand. Why so serious? |
| | |
| --- | --- |
| Harvey Dent: | It's not about what I want. It's about what's fair! |