The Darkness
(2016)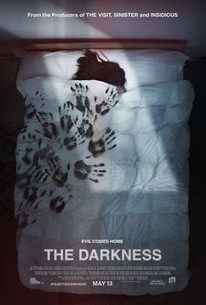 TOMATOMETER
AUDIENCE SCORE
Critic Consensus: The Darkness clumsily relies on an assortment of genre tropes, leaving only the decidedly non-frightening ghost of superior horror films in its wake.
Movie Info
As a family returns home from vacation at the Grand Canyon, they innocently bring home a supernatural force that preys off their own fears and vulnerabilities, threatening to destroy them from within, while consuming their lives with terrifying consequences. THE DARKNESS stars Kevin Bacon, Radha Mitchell, David Mazouz, Lucy Fry, Matt Walsh and Jennifer Morrison. Directed by Greg McLean and written by McLean, Shayne Armstrong and S.P. Krause, the film was produced by Jason Blum, Bianca Martino and Matt Kaplan. The film will be released by BH Tilt in coordination with High Top Releasing.
Critic Reviews for The Darkness
Audience Reviews for The Darkness
½
This is basically just a shitty version of Poltergeist. Don't waste you time on this.
Stephen Skudlarek
Super Reviewer
½
Much like I predicted yesterday, in my review of The Echo, I didn't end up liking this movie very much. So my horror fest, so far, continues to be fairly weak when compared to previous years. And there's no problem with that, as far as shit movies go, horror movies are far more entertaining to watch than probably other shitty movies in another genre. Unless it's like The Room, which is a masterpiece of awful. Though this isn't awful per se, but I did a lot to keep myself entertained as I was watching this. The main problem I have with this movie, much like The Echo, though the latter did a better job at this, is that it reminds me so much of other, and better, movies. Really, though, there's only one film that comes to mind as you are watching this one. And, if it wasn't obvious, that one movie is Poltergeist. That's not the only one, of course, but Poltergeist is the one that screams out at you in almost every frame of the damn film. Suburban family being haunted by evil spirits, forced to call a medium to perform some sort of 'cleansing' on the house to get rid of the spirits. Stop me if you've heard all this before. There's even the climax where a parent has to go to this otherworldly realm to save their child. I'm surprised there hasn't even been legal action against this film just for even making it past pre-production. I don't know how the legality of this would work, I assume that you could go after someone for remaking a movie without having the rights to. Though in this case, you really would have to wait until the final product to even be able to go after them. The point is that this movie makes no qualms about the fact that it borrows so heavily from Poltergeist. The only thing that's even remotely different is the fact that, if I remember correctly, there are no attacks from home appliances in this film. It's more about this group of demons, from this ancient Indian tribe, that are somewhat similar to the Four Horsemen of the Apocalypse. Goddamn, like seriously. And, I'll be honest, I fucking loved the first Poltergeist. It is an excellent horror movie. So this movie has a lot to live up to and, obviously, it pretty much fails at the most important part of what made Poltergeist so good. And that is the fact that it knew how to build up its scares, they were well-constructed and smartly executed. It wasn't just shit for the sake of it. And the problems start right from the beginning. You're just thrown into these characters' lives without any real set-up or exposition as to who these people are. Talk about a poorly written start. And then when you do get to meet the characters and their personalities, it doesn't get better. None of the characters are ever likable, even the kid with autism. And that's another thing, why's the kid autistic? Just cause every one of the characters had to have 'their thing'. Kevin Bacon is a cheater, Radha Mitchell is a recovering alcoholic, their daughter is anorexic and their son is autistic. It's not even done because it's somewhat relevant to the story, they do it because all the characters have to have an easily identifiable personality. Which is about the worse reason to have an autistic character in a film. It's not because you have an interesting story to tell that's sensitive to those who are afflicted with it, it's just there to give a one-dimensional character some sort of 'personality'. It's absurd. But that's not really as big of a problem as the derivative narrative and scares. I can't really even count the scares, because it feels like there are none. I mean there are, but it's the type of scares that don't really even register with me, where I don't even think about what happened. But I'm sure there's some jump scares that will get those that are more casual fans of horror. The acting is nothing to write about, though it's probably one of the only highlights of the film. And even then, it's not like it actually adds much. Honestly, this is just a bad movie that wants to reach levels that it could never have reached with such a haphazardly put together script. It's not the worst film I've ever seen, not even close, but it's still a really bad movie and shouldn't be seen unless it hits your streaming service of choice or you have a free Redbox rental.
Jesse Ortega
Super Reviewer
My faith in low budget Blumhouse horror films is slowly disintegrating. The Darkness lacks scares, thrills and any plot at all. Veterans Kevin Bacon and Radha Mitchell tried their best with the script, but it wasn't enough to save the film. I went in with low expectations, and they were not met. Never again will I be watching this mess.
Luke Andrews
Super Reviewer
The Darkness Quotes
| | |
| --- | --- |
| Simon Richards: | Sometimes the answer you're looking for is in the place you're not looking. |