The Day of the Triffids
(1963)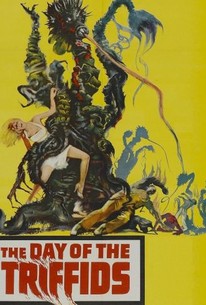 The Day of the Triffids Photos
Movie Info
Adapted from the novel by John Wyndham, this intelligent British monster movie begins with a meteor shower so intensely bright that it blinds the majority of the world's population, rendering them vulnerable to attack from hordes of carnivorous plants known as "Triffidus Celestus" grown from meteor-borne spores. As the plant-monsters continue to multiply and seek human prey, the remaining sighted people join forces to combat the veggie invaders. One such survivor, an American seaman (Howard Keel) whose eyes were bandaged during the meteorite impact, battles his way through the Triffid ranks. Meanwhile, a couple (Kieron Moore and Janette Scott are trapped in a lighthouse. Good production values make this low-budget effort look more expensive than it probably was; the uncredited assistance of Freddie Francis -- who directed several scenes with a second unit -- also helps.
News & Interviews for The Day of the Triffids
Critic Reviews for The Day of the Triffids
Audience Reviews for The Day of the Triffids
½
Although greatly ballyhooed the work is finally only a so-so effort, plants from space reminding us to certainly always finish yer salad. In the meantime I got the feeling that Howard Keel was the only Hollywood that could be got ... and that they shoulda passed on him and picked some local talent, as lifeless a performance as ever seen given. What's he doing in a sci-fi anyway? Here is a work dying, crying, to be repackaged, re-done.
Kevin M. Williams
Super Reviewer
I wasn't able to see the whole movie, but someone told me this was a great movie, so I watched some of it and I wasn't impressed, but may be I should see the whole movie sometime?
½
well intentioned with a decent cast, this movie is a snoozefest...simply drags and what action there is consists of plant-like creatures inching along a mostly blind population. For insomniacs, suggested viewing is fifteen minutes twice nightly..
The Day of the Triffids Quotes