The Death Factory: Bloodletting
(2008)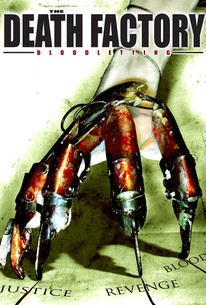 AUDIENCE SCORE
Critic Consensus: No consensus yet.
Movie Info
A mother seeking vengeance against the person who murdered her daughter is drawn into a deadly trap set by a self-righteous madman in this shocking horror thriller featuring necro-sexuals, baby killers, anarchists, white slave traders, pedophiles, neo-Nazis, and a whole host of ravenous, flesh-eating beasts. Ana Romero wants justice. A video of her daughter's death has just surfaced on the internet, and now Ana's only lead is an underground website called the "Gorehouse." Posing as an online trader of illegal videos, Ana sets out on a mission of justice. Descending ever deeper into a dark world of degradation and pain, the grieving mother is summoned to an abandoned factory in order to witness a "Bloodletting," an event in which an innocent person is tortured and murdered for the entertainment of discerning viewers. Once inside, Ana and a group of online deviants quickly realize that they've fallen into a trap. They've just stepped into one man's personal version of Hell, a place where the guilty go to suffer for their sins by doing battle with a bloodthirsty mutant who knows no mercy. Perhaps if Ana can survive this gruesome ordeal, she can finally track down her daughter's killer and experience the sweet release of bloody revenge.
Critic Reviews for The Death Factory: Bloodletting
There are no critic reviews yet for The Death Factory: Bloodletting. Keep checking Rotten Tomatoes for updates!
Audience Reviews for The Death Factory: Bloodletting
½
The scariest thing about this movie is that it is a sequel - another, even less expensive one of these exists. I didn't know it was a sequel til I searched for it here though, so I suppose if you put yourself to the torture of watching it, you don't have to be worried you're missing anything (though I suppose it may explain some of the awkward expositional dialogue with accompanying flashback montage from the main madman about his sister's condition). I give one half a star because this was made and I've seen much worse. I give another half a star to the sister character with the Freddy claws because she wore such thick contact lenses and did have creepy body movements and decent makeup. The final half star is earned because the blood coloring is good and the gore included, though low tech, looks decent. Too bad the cinematography wasn't better but I suppose it was a budget restriction. And I know poor acting isn't always a budget restriction, but it obv was here.
_kelly .King
Super Reviewer
The Death Factory: Bloodletting Quotes
There are no approved quotes yet for this movie.