The Death of Stalin
(2018)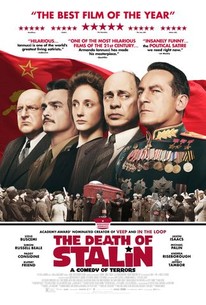 TOMATOMETER
AUDIENCE SCORE
Critic Consensus: The Death of Stalin finds director/co-writer Arnando Iannucci in riotous form, bringing his scabrous political humor to bear on a chapter in history with painfully timely parallels.
The Death of Stalin Videos
The Death of Stalin Photos
Movie Info
The one-liners fly as fast as political fortunes fall in this uproarious, wickedly irreverent satire from Armando Iannucci (Veep, In the Loop). Moscow, 1953: when tyrannical dictator Joseph Stalin drops dead, his parasitic cronies square off in a frantic power struggle to be the next Soviet leader. Among the contenders are the dweeby Georgy Malenkov (Jeffrey Tambor), the wily Nikita Khrushchev (Steve Buscemi), and the sadistic secret police chief Lavrentiy Beria (Simon Russell Beale). But as they bumble, brawl, and backstab their way to the top, just who is running the government? Combining palace intrigue with rapid-fire farce, this audacious comedy is a bitingly funny takedown of bureaucratic dysfunction performed to the hilt by a sparkling ensemble cast.
News & Interviews for The Death of Stalin
Critic Reviews for The Death of Stalin
Audience Reviews for The Death of Stalin
This film is funny, sometimes in the smartest way and other times in the dumbest. It balances political power plays with goofy satire well, and the performances are very entertaining. The plot of this film, however, is very thin and the narrative never wows you. This movie is certainly entertaining, but won't have you belly-laughing, biting your nails, or blow your mind.
Sanjay Rema
Super Reviewer
½
BORE AND PEACE - My Review of THE DEATH OF STALIN (2 1/2 Stars) I'm a fan of Armando Iannucci's work. IN THE LOOP and VEEP contain some of the most razor sharp, savage dialogue I've ever heard. His attention to the cowardice of humankind and the terrible ways we often communicate with each other puts him a cut above the rest of the world's satirists. Consider then my relative disappointment with his latest project, THE DEATH OF STALIN. While bracingly funny at times and wonderfully acted by its entire, huge ensemble, the film wore out its welcome, and sometimes its coherence, around the halfway mark. Set in Moscow during the time of Stalin's death, the story explores the insane pile-up of power grabs by those who survived the despot. Not such an easy thing to do in the darkest time of the Soviet Regime, as this wacky comedy has an insanely large body count. Its opening act, and perhaps its best moments, centers around Andreyev, an Engineer (Paddy Considine in fine form) panicking when Stalin directly orders him to record a symphony he oversees. Problem is, the symphony has just ended, so Andreyev quickly rounds up people on the street, a conductor at home in his pajamas, and a hostile pianist (a strong Olga Kurylenko from QUANTUM OF SOLACE) who detests Stalin and refuses to play again. Through this sequence, we feel the fear everyone has of their leader and the brave faces they all put on in order to survive. Eventually, Stalin dies, although in true farcical fashion, it takes forever! The power vacuum left behind gets filled by his surviving cabinet members, all of whom would love to lead their country, despite lacking the moral compass to make something better out of the hell Stalin created. These potential leaders include Steve Buscemi as Nikita Khrushchev, Michael Palin, Jeffrey Tambor, a fantastic Simon Russell Beale as a head torturer for the KGB, Jason Isaacs, and the winning one-two punch of Andrea Riseborough and Rupert Friend as Stalin's daughter and son. The film notably eschews Russian accents for the most part, with each actor using their natural speaking voices, most hilariously resulting in Buscemi's Krushchev sounding like a disgruntled NYPD Officer. I also loved how in the background of the frame, we see people being shot, or rolling down stairs, while people carry on petty arguments in the foreground. This sounds amazing, no? And it is for a while. Like his other projects, Iannucci has a real gift for the minutiae of desperate people doing or saying anything they can to stay in the game, or in this case, stay alive. It's like VEEP with a longer running time and bloodshed. But after a while, I stopped caring as an aura of sameness crept into the viewing experience. I stopped trying to follow the convoluted story and occasionally smiled at a well-realized quip or two. THE DEATH OF STALIN is no disaster by any means. It's a fluffy farce which dares to place itself into a dark place in world history. It's got great nervous energy and more plotting and scheming than an episode of SURVIVOR. A shame, however, that it ultimately bored me.
Glenn Gaylord
Super Reviewer
It is hard to make improvisation work in comedy, and while In the Loop was quite hilarious, this film begins funny but slowly becomes awfully grim, adopting a strange, solemn tone (even in the music) that feels completely incompatible with the goofy humor that it is aiming at.
Carlos Magalhães
Super Reviewer
The Death of Stalin Quotes
There are no approved quotes yet for this movie.