The Decoy Bride
(2012)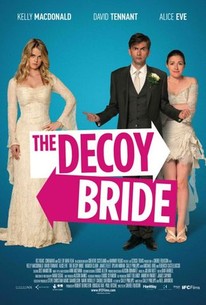 Movie Info
When the wedding of internationally famous film star Lara Tyler (Alice Eve) to tweedy English author James Arber (David Tennant) is sabotaged by a paparazzo, they decide to relocate the event to the one place where the world's press won't find them: the sleepy Island of Hegg, as featured in James' bestselling novel The Ornithologists Wife. However, dilapidated buildings and greedy islanders are the least of the problems that the wedding party and their Hollywood entourage have to deal with, as Marco (Federico Castelluccio) the ingenious paparazzo tracks them down in his mission to photograph the celebrity wedding of the year. Steve and his assistant Emma (Sally Phillips) must find a decoy bride and think that local girl Katie (Kelly MacDonald) will be an ideal replacement. But when Katie meets James, sparks fly, dresses get ruined and love gets complicated. -- (C) IFC
News & Interviews for The Decoy Bride
Critic Reviews for The Decoy Bride
Audience Reviews for The Decoy Bride
Premise is a bit thin, but cast are pleasant and I liked the island setting and the locals. I have to say, I would hate to live somewhere like that, though! It's pretty much a straight to dvd chick flick. Nothing you would want to watch again or remember two years from now, but for a bit if light entertainment or to watch free on TV, could pick worse.
Nicki Marie
Super Reviewer
Brainless, cute movie. Not too much depth, just a sweet enough movie to pass the time...
Cynthia S.
Super Reviewer
A film starring three seminally famous UK actors from the IFC film series, this romantic comedy actually has a bit of heart in places and features some very nice moments between our two leads. The film itself places quite a bit of comedy and even atmosphere on the setting of the film: an island named Hegg off the shores of Scotland. The film features David Tennant (Doctor Who) and Alice Eve (Sex and the City 2) as a bedraggled Hollywood couple trying to get married in a secluded place where the paparazzi can't find them. I found this already incredible to believe since countless couples marry in secret without such effort from the press, but apparently the character of Lara Tyler (Eve) is so famous she has her own stalker. (who is supposed to come off as charming, which is find unsettling.) A recent fleeing bride herself, Katie (Macdonald) meets the groom in a meet cute, and then is employed as a distraction from Lara's disappearance, as she is the only single woman still on the deserted island. Though it's not really all too original, the islanders are really something special. They have personalities that doesn't come off as stilted or tacky, with a mother who is disabled and dying, coming off quirky and corrupted by a desire to travel the world before she dies. It even features some very poetic language as the groom is a famous author whose book the bride is obsessed with. The ending is cheesy and formulaic and yes there is a guilty pleasure element to it, but really the characters are entertaining and the setting is somewhat magical if not kitschy. I especially loved Michael Urie (Ugly Betty) as the assistant/wedding planner to Lara Tyler. He always brings something unique and bitchy to his roles, here again as the dramatic sidekick to the ensuing shenanigans. Some great acting from all involved and two leads who actually have chemistry, Decoy isn't all bad, and not all good. Just what you would expect from a low budget film.
Spencer S.
Super Reviewer
The Decoy Bride Quotes
| | |
| --- | --- |
| Katie: | I suppose it could be worse. I could be trapped inside Stephen King's honeymoon. Although apparently, he's a nice guy. |
| | |
| --- | --- |
| Steve Korbitz: | You've never even been on Hegg, have you? You googled the entire book! |
| | |
| --- | --- |
| Katie: | "Even the Vikings never showed the slightest interest in us(the island of Hegg)" |
| Katie: | Even the Vikings never showed the slightest interest in us. [the island of Hegg] |
| | |
| --- | --- |
| Katie: | A guidebook to here? Don't be mad! "Come see our dis-used toilet that may or may not be haunted by the ghost of a drowned cow." |
| Katie: | A guidebook to here? Don't be mad! 'Come see our dis-used toilet that may or may not be haunted by the ghost of a drowned cow.' |