The Den
(2014)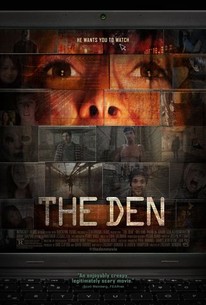 Movie Info
After receiving a grant for her graduate thesis, Elizabeth Benton (Melanie Papalia) logs onto a video-chat site known as THE DEN, on a mission to explore the habits of its users. During one of her random video-chats, Elizabeth watches in horror as a teenage girl is gruesomely murdered in front of her webcam. While the police dismiss it as a viral prank, Elizabeth believes what she saw is real and takes it upon herself to find the truth. Her life quickly spirals out of control as she gets pulled deeper into the darkest recesses of the internet. And eventually, Elizabeth finds herself trapped in a twisted game in which she and her loved ones are targeted for the same grisly fate as the first victim. (c) IFC Films
News & Interviews for The Den
Critic Reviews for The Den
Audience Reviews for The Den
The webcam found-footage is well done and the concept is quite disturbing considering the horrors that must be really found inside the deep web; the only problem is that the clichés are sometimes infuriating, like no one believing the main character and thinking she is crazy.
Carlos Magalhães
Super Reviewer
A 21st century horror that deals with plausible issues with using technology, but an unsatisfying and unscary horror makes this movie a snore fest.
Film Crazy
Super Reviewer
Imagine Hostel with webcams and that is exactly what this movie is. Of course, I'm not saying it's a shameless ripoff, because it does have its own identity, what with the film being completely comprised of webcam footage. While this webcam usage does serve a purpose in the story, as Elizabeth is performing a study on people who use these social media sites and their behavior, and that leads her to uncovering a brutal murder. But I'm not sure if it was chosen for purely story purposes or because it was cheaper to make that way. I'd like to think it was more of the former than the latter. With that said, I think the film does a perfectly good job at showcasing the goofier side of the internet, with the cat videos and people humiliating themselves for others' amusements, to the more darker side of murder videos being very easily accessible to whomever wants to watch them. It's probably one of the better movies at this because so many films, based around the internet, only focus on the negative aspects of it. This movie makes sure that you can see that the internet is a place where you can have a lot of fun and be able to meet new people from all over the world, but it's also a place where you can find incredibly ugly and disgusting things. I liked this movie, it's certainly not even close to the best horror film of the year, Cheap Thrills takes that honor, but it is an entertaining horror film to watch for its brief running time. That sounds wrong considering the fact that the film isn't selling hope, far from it as this business where people's lives are showcased for others to see, before they're kidnapped and murdered, will continue on into the future. In many ways, the reveal that this is a business, where people pay to watch the lives of others shortly before they're murdered is an indictment on most horror fans. We're part of that endless cycle of violence, as we demand to see the suffering and death of these fictional people. Again, this applies to some horror fans, not all of us. I do enjoy myself a good, bloody and gory horror film, not gonna lie. But this commentary was good, not necessarily clever, but good enough to make you think. The acting is solid for a horror movie, but not out of this world. It's good enough that you won't notice it at all while you're watching the film. That said, this film isn't the most inventive, or clever, of horror films. But it does offer an entertaining and smart experience. It's also incredibly short, so you can't really go wrong with this movie if you're looking for a quick horror fix.
Jesse Ortega
Super Reviewer
The Den Quotes
There are no approved quotes yet for this movie.