The Detective 2 (B+ jing taam)
(2011)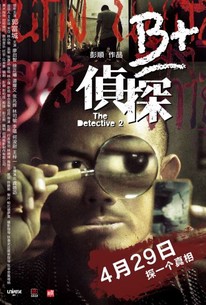 AUDIENCE SCORE
Critic Consensus: No consensus yet.
The Detective 2 (B+ jing taam) Photos
Movie Info
Detective Tam is back to stop the killer responsible for a series of grisly murders in Thailand.
Critic Reviews for The Detective 2 (B+ jing taam)
There are no critic reviews yet for The Detective 2 (B+ jing taam). Keep checking Rotten Tomatoes for updates!
Audience Reviews for The Detective 2 (B+ jing taam)
I found this to be an improvement over the first film. It doesn't look like it, since I gave this film a lower rating than the original, I'll get into why later. In some ways I think it's an improvement. It got rid of the supernatural aspects that I found so detrimental. It did certainly give the film something different and, perhaps, in that regard that would be better than just any other neo-noir murder suspense. I don't think it worked great, but it was something unique to that film. Of course there is a HUGE problem to this film, I think this is probably a bigger detriment to this film than the ghost stuff was to the first one. Basically, the film tells the story of this orphan, now grown up, projecting his childhood on to the murders he commits. He was told by his sister, as a child, that their mother stabbed their father to death after finding out he had an affair. She's so distraught that she flung herself from the building they lived in to kill herself. It turns out that this is a lie and his 'sister' is, in fact, his mother and he was the product of a rape A rape that he recreates as a grownup with one of his victims. Finding out the truth causes him to lose his mind and become the serial killer he is when he grows up. The problem is that his sister/mother, during the flashbacks looks no older than 14 or 15. By this point her son is about 11 or 12. They look only a few years apart in age. Even if she was 18 at the time, which I assume she wasn't, she'd still be too young to be this kid's mother. Even when the detective finds her in the present and interrogates her, she looks no older than 28 years old. Her "son" looks about the same age as her, maybe even a little bit older. It's absolutely ridiculous how they expect you to completely overlook this. For all intents and purposes, this is an impossibility. Because, unless they come out and tell you how old she is, you're gonna assume she's as old as she looks. It doesn't matter how old the actress really is. I actually searched for the ages of the actresses who played the past and present version of the killer's mother. The younger one was 19 or 20 at the time of the film's release. The actress who played the present version of the character was about 32 or 33 at the time of filing. Let's say both were supposed to be around that age for the actual story, still much too fucking young to have mothered this son. She's 33 but her son's 26 or 27? I mean come on. I realize I'm over-analyzing this, but this is the big twist in the film. This is the big reveal of the killer's origins and it doesn't make any sense at all if you really think about it. Absolutely stupid and, I'm quite surprised I haven't given the film a lower rating because of that...in fact I think I will. And it's done, the ridiculous twist really did this film no favors. And it could've been fixed very easily I think. Just have it be something else or just don't bother with a twist. You don't NEED a twist to do this kind of film. So many of these films are concerned about not being predictable that they do stupid shit to surprise you that ends up making no sense whatsoever. And I think that's a much bigger problem than predictability. Because if you have a good story, not saying this film did, then predictability takes a backseat because you're drawn into the characters and the story. Just focus on storytelling first. The best twists work because they make complete sense, once you put everything together. All the little clues and hints, when pieced together, make perfect sense. That's why The Sixth Sense worked so well, everything about it made perfect sense if you paid any attention to what the film was saying. Of course it was a blessing and a curse, because M. Night went all twist crazy and he became one of the worst at doing them just for the fuck of it, ESPECIALLY if they didn't make sense. But I digress, the twist here is ridiculous and really hurts the movie. One of the things I like about this "series" is that the detective is just so utterly dopey and goofy. He's not the strongest, the fastest, the most agile, or the smartest and I think that makes for an entertaining combination. And I liked his relationship with Chak, they have an easygoing chemistry. I did think they tried too hard with Chak's death, in trying to make it look as tragic as possible. They show flashbacks to the good old days, while a sad piano plays in the background while Aaron Kwok, Tam, mourns his fallen friend. It's definitely manipulative considering Aaron Kwow does a good job at selling the loss of his lifelong friend and how difficult it must have been to lose the only person who was there for him. He was doing a great job, but they had to manipulate it by showing flashbacks and playing sad music. All of Aaron's efforts to make the scene work, ruined. The murder mystery itself is fine, nothing to write home about. In many ways this film is an improvement over the original, I just thought the whole movie flowed better and was paced better. It's just that the twist completely destroyed this movie, at least for me. This is ok at best, Aaron Kwok is good in his role, but the movie isn't particularly great. Nor does it really make any attempts to be, and that might be worse.
Jesse Ortega
Super Reviewer
The Detective 2 (B+ jing taam) Quotes
There are no approved quotes yet for this movie.