The Devil and Daniel Webster
(1941)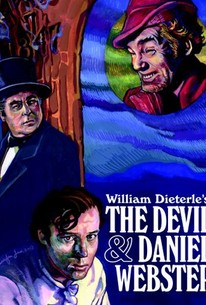 The Devil and Daniel Webster Photos
Movie Info
Noted for its devilish wit and wicked satire, The Devil and Daniel Webster is a faithful adaptation of Stephen Benet's distinguished short story of a struggling New England farmer who naively sells his soul for money and lives to regret it when he loses everything that ever really mattered to him. When he finally figures out that his greed has guaranteed him a truly horrible fate, he goes to the great lawyer Daniel Webster for assistance. Together they attend a trial held in the farmer's barn where Webster does his best to save his repentant client's soul. The film is also known as All That Money Can Buy and Daniel and the Devil.
Critic Reviews for The Devil and Daniel Webster
Audience Reviews for The Devil and Daniel Webster
½
A New Hampshire sodbuster is up against the ropes and feeling it when he makes an errant oath: "I'd sell my soul for two cents if I could!" Enter His Most Despicable Oneness (charmingly sleezy as rendered by Walter Huston) and trouble comes with him. Who can save the day? Very nearly post expressionist German in style and substance this creative fantasy has stood the test of time gracefully.
Kevin M. Williams
Super Reviewer
Well made film with powerful imagery that somehow sticks in your mind for days. Still holds up.
Anthony Valletta
Super Reviewer
Edward Arnold comes through again, this time as the legendary Daniel Webster, a lawyer and statesman who seemed more myth than man. Unfortunately, the bulk of the movie is about Jabez Stone, a simple farmer with a deep voice who likes to say "consarnit!" alot (and I do mean alot). Early in the movie, he makes a deal with the devil to become wealthy and have good fortune, and from that point on, we're shown the evils that money brings. Anne Shirley is the really beautiful actress playing his wife Mary, and Jane Darwell (Ma Joad from "the Grapes of Wrath") plays his loudly concerned mother. There's very little in the way of character development going on, outside of the typical 1940s hayseed dialogue (at one point, one of the characters cringe-inducingly says to another "that's mighty white of you"). Perhaps the only element with any sort of shocking undertone was the character "Belle" (as played by Simone Simon). As the devil's seductress, she basically kicks the wife out of the house and steals her son away. Jabez even builds a mansion just for her. Surely risque business for the 40s. It's not until the last 20 minutes that Daniel Webster and the devil actually duke it out, and it's a little anti-climactic at that. On the plus side, there's some outstanding direction and use of lense-smudging to create an eerie effect on the "jury of the damned". In spite of some corny cheesiness, it's still a worthy classic.
Devon Bott
Super Reviewer
The Devil and Daniel Webster Quotes
There are no approved quotes yet for this movie.