The Devil Bat
(1940)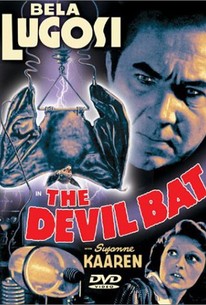 Movie Info
A village chemist (Bela Lugosi) is training a group of oversized bats to get revenge on his business partners. Also known as Killer Bats, the film earned a sequel five years later (Devil Bat's Daughter).
Critic Reviews for The Devil Bat
Audience Reviews for The Devil Bat
½
It's very simple. You want Lugosi to be a vampire again, but you don't want to rip off the success of Dracula. How do you do it? Make Lugosi a doctor who experiments on bats that he trains to go out and kill people at night for him. Oh, and you might not want to call it a vampire bat... that would be too obvious. To me, that pretty much sums up The Devil Bat. It's an attempt to capitalize on Lugosi's legacy as the most famous vampire in the history of cinema. Lugosi actually gives a great performance in the film, but the film's has some very broad humor mixed in that sort of destroys any sense of atmosphere it might have. There are two newspaper reporters who are constantly handing out one liners while they investigate the murders taking place. It's very silly at times, but it somehow works well enough for what it is. It isn't anything particularly scary, but it's enjoyable to an extent. It's good for Lugosi's performance, that much is certain.
Tim Salmons
Super Reviewer
½
A campy and fun little horror film, elevated only by Bela Lugosi and his great portrayal of Dr. Paul Carruthers. The bat effects are pretty poor, especially by today's standards. The movie, despite its limitations, makes for a dark and fun little watch so long as your expectations are tempered. As usual like most of these older horror films, the ending is rapidly wrapped up with a generic happy ending. For fans of campy horror flicks or, like me, fans of Bela Lugosi who appreciative his wonderfully diabolical performances.
Chris Browning
Super Reviewer
I don't know why Lugosi couldn't have just been a vampire again, but I suppose this is supposed to be a variation on Dracula somehow. I don't know, but this was actually a good movie, and Lugosi is always cool.
The Devil Bat Quotes
There are no approved quotes yet for this movie.