The Devil Is a Woman
(1935)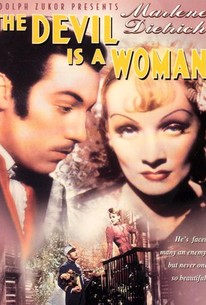 The Devil Is a Woman Photos
Movie Info
This is the last film Hollywood goddess Marlene Dietrich made with her mentor Joseph von Sternberg, the distinguished filmmaker who made her a star, and it was not only her least popular film, it also generated a minor international controversy between Spain, where the story is set, and the US. Taking place in the 19th century during the revolution, it centers on Dietrich, a Spanish seductress with a spider-like tendency to destroy the lives of those who love her. The film opens as Galvan, a young soldier encounters the beautiful vamp and instantly falls in love. Later he tells this to his buddy Don Pasqual who is horrified to learn that she is the same vixen who destroyed his life. Attempting to warn his friend, he tells his grim story, which unfolds via flashback. It all began five years ago when he met and fell in love with her on a train. The wealthy Don Pasqual becomes obsessed with the woman and begins showering her with gifts, favors, and a posh apartment. His nagging, over-bearing mother disapproves of the affair and for good reason. Soon the woman takes the smitten Don Pasqual for everything and then demands more. The masochistic fellow is more than happy to comply and so goes off in search of more money. Not long afterward, she callously dumps him. Later, after restoring his fortune, he finds her dancing in a bar in Cadiz. Once again he gives her everything he has, and again she leaves. And so it goes. The younger fellow is impressed by the story and promises to try and stay away from her, but like his friend he too is weak and in the end, tragedy for one of the men ensues. The controversy for Spain came from the film's unflattering description of the behavior of the Guardia Civil, and from intimations of government brutality. They banned the film there and requested that the US State Department ban it also. They complied and as a result, very few copies of this film exist.
Critic Reviews for The Devil Is a Woman
Audience Reviews for The Devil Is a Woman
A seductive and ice-hearted Marlene plays with men's hearts but in the end she offers a surprise. How is the title to be read? Until the final scene, it's pretty clear: this woman is the devil himself. But then, there's another one: even the devil (she who seems to be) is only a woman capable of love... who can tell?
Alice Smith
Super Reviewer
The Devil Is a Woman Quotes
There are no approved quotes yet for this movie.