The Devil's Rock
(2012)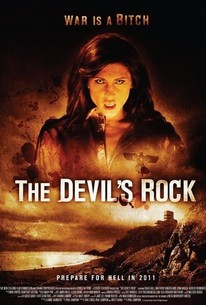 Movie Info
Set in the Channel Islands on the eve of D Day,two Kiwi commandos, sent to destroy German gun emplacements to distract Hitler's forces away from Normandy, discover a Nazi occult plot to unleash demonic forces to win the war.
Critic Reviews for The Devil's Rock
Audience Reviews for The Devil's Rock
Effective and thrilling New Zealand horror film that has a very idea for its plot. This is among the better genre films that have come out from New Zealand in quite some time. The film has very good acting, a good plot, good effects and effective directing that keeps the material engaging despite it's slow pace. Director Paul Campion delivers a film that should appeal to diehard horror hounds and it is a fun, entertaining flick that has such effective, chilling moments that it is refreshing to see films like this to come out once in a while to remind horror fans that there are still great horror filmmakers out there making quality horror titles. The Devil's Rock is a must see film, and it delivers some great performances and has some awesome special effects which should please gore fans everywhere. Add to that, that director Campion uses his ideas as a message about the horrors of war and how no one wants to go through that. This is terrific filmmaking and one of the most memorable low-budget horror titles in quite some time. The Devil's Rock is a standout film that manages to overcome such imperfections such as budgetary constraints to create something that looks great on-screen and is a well constructed picture from start to finish. Expect something different, but very well done, and if you're tired of the same old remakes, this film may give you that entertaining factor that you want out of a horror film. This is not perfect, but it nonetheless manages to be a well made piece of low-budget horror cinema that is the best New Zealand horror film ever. A must see for genre fans.
½
The Devil's Rock is a bloody little horror movie that I really enjoyed. The link between the occult and Nazis has been explored many time in horror movies, but I've never seen it done quite the way it's seen here. The setting is an island in the English Channel, shortly before D-Day. Two soldiers from New Zealand sneak onto it on a mission to blow up a Nazi anti-aircraft gun. The pair are lured deeper into the bunker by the screams of a woman after completing their task, and stumble upon a true horror. The Devil's Rock has a small cast and is primarily set in one location, but those settings and characters are used very well. So are the practical special effects, which were pretty fantastic for a production this small. What I liked most about the movie was the pacing, which gradually ratcheted up the tension until I was almost squirming by the end. This isn't the kind of flick that relies on jump scares and loud noises to get your heart thumping. Instead it layers on the menace and foreboding. As I mentioned earlier, I really enjoyed it. If you're the kind of horror fan who gets a kick out of a good demon story and likes the more low-key, atmosphere and character-driven approach, definitely give this a try.
½
Given that New Zealand is such a small film market, at least in comparison with the wealth of content cinemas have available to them from abroad, the number of homegrown films which see a wide release is unfortunately small. It shouldnâ(TM)t be a reflection on the quality of local film, just simply the reality of existing in a business so completely dominated by Hollywood. Which is why itâ(TM)s so disappointing when one of the precious few slots allocated to NZ films is filled by something like The Devilâ(TM)s Rock, a derivative, achingly slow horror masquerading as revisionist history. The concept is not essentially a bad one, yet itâ(TM)s handled in such a clumsy fashion that it makes one despair for the state of our national cinema if this is among the best that our filmmakers can do. Playing out on an understandably small scale, The Devilâ(TM)s Rock runs with the oft speculated idea that during World War II, Nazis were researching and conducting experiments that dabbled in the occult, and in this case have summoned a demon to a small, uninhabited island in the English Channel. Thereâ(TM)s potentially interesting ideas here, but director Paul Campionâ(TM)s attempts to build the suspense necessary for a film of this type reduce the pacing to a crawl, and what should be creepy and unsettling ultimately ends up being painfully boring. The performances donâ(TM)t do the film any favours either, with particularly disappointing work from Matthew Sunderland (Out of the Blue), whose baffling attempt at an accent leads to much confusion about who is who, and what his motivation is. Before descending completely into the cheap Exorcist knock-off that it threatens to become, The Devilâ(TM)s Rock admittedly has an unexpected and welcome twist, although itâ(TM)s best not to consider the implications of what the film is suggesting in any kind of historical sense. The most successful New Zealand films tend to stick to well defined and culturally specific stories, but sadly, in trying to branch out into genre filmmaking, The Devilâ(TM)s Rock fails to deliver anything more than cheap, direct-to-video level mediocrity. tinribs27.wordpress.com
Mark Roulston
Super Reviewer
The Devil's Rock Quotes
There are no approved quotes yet for this movie.