The Dictator
(2012)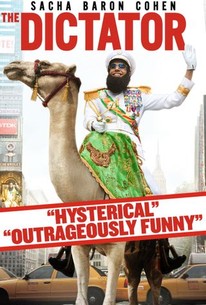 Movie Info
The heroic story of a North African dictator who risks his life to ensure that democracy would never come to the country he so lovingly oppressed. -- (C) Paramount
News & Interviews for The Dictator
Critic Reviews for The Dictator
Audience Reviews for The Dictator
This time Cohen didn't meet idiots as a fake character, exposing their bigotry but instead made a real film with a bit of a plot and actors. The humpor is still the same. Imagine every insulting stereotype about arabs, terror and dictatorship but also body openings and sex and it's probably in this film. That's sometimes cringe worthy and sometimes hilarious. The biggest surprise is "Aladeen's" speech about why the USA is even against dictatorships. That's incredibly smart, spot-on and, sadly, horribly current.
Boring. They missed a great opportunity here.
Joseph Brightly
Super Reviewer
½
In this overly PC world (and ultra PC UK) Sacha Baron Cohen is an exhilarating breath of fresh air that is most welcome. This new film isn't quite as good as his previous films, 'Bruno' being the best for me, 'Borat' coming second and lastly 'Ali G' but this is only down to Ali G needing a better film, the character is probably his best creation. As for 'The Dictator' its a sterling effort in harsh political satire, more typical stereotypes and vulgar verbal humour but the approach lets it down. Bruno and Borat were brilliant because they were basically a collection of individual embarrassing real time sketches that humiliated other people by Cohen himself, these were all linked together to make a loose general plot. This new film goes down the route of Ali G by having a rather poor plot, it seems to run along the same lines as 'Coming to America' albeit a completely racist, sexist bigot filled version. So the proper story route doesn't really work as well for Cohen's skills if you ask me but there are still some great comical cringeworthy scenes to be seen. The dialect/language of John C. Reilly's character in his scenes are really quite unbelievable! you're watching and thinking to yourself, should I be laughing at this? is it political...ah who cares. I enjoyed it but its not the best he's done. The beginning was good when he was all powerful and the sequences where he is getting used to life not being all powerful were good but it lags through the middle and the happy-ish ending spoils it a little. End of the day you all should know what to expect from Cohen and you all know he doesn't beat around the bush, this guy has balls!. Its offensive and in your face so only watch if you like the guy, simple really.
Phil Hubbs
Super Reviewer
The Dictator Quotes
| | |
| --- | --- |
| General Aladeen: | I accept your job offer as general manager. |
| Zoey: | Well you can't be the manager because I'm the manager. |
| Zoey: | Well you can't be the manager because I'm the manager. |
| General Aladeen: | Well I can if I killed you. |
| | |
| --- | --- |
| General Aladeen: | Good morning Nadal! Wake up, Good Morning Nadal! |
| Nadal: | WAAAAAAAAAAAAAAAAAA!!!!!!!!!!!!!!!! |
| Nadal: | Waaaaaaaaaa! |