The Discreet Charm Of The Bourgeoisie (Le Charme Discret de la Bourgeoisie)
(1972)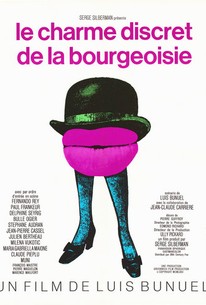 The Discreet Charm Of The Bourgeoisie (Le Charme Discret de la Bourgeoisie) Photos
Movie Info
In typical Luis Buñuel fashion, The Discreet Charm of the Bourgeoisie surrealistically skewers the conventions of society. Buñuel applies his surrealist touch to a mundane event: a dinner party that may never come to pass. A group of well-to-do friends attempt to gather for a social evening, but are thwarted at every turn. The initial problem seems to be a simple scheduling mistake, but the obstacles become more and more bizarre. At one point, the guests are interrupted at the table by an army on maneuvers. Later they learn that they are merely characters in a stage play and so cannot have dinner together. These misadventures are combined with symbolic dreams of the various characters, some of which also involve interrupted dinners. Wicked social satire and one of Buñuel's funniest films. Winner of the Academy Award for "Best Foreign Film" in 1972. ~ John Voorhees, Rovi
Critic Reviews for The Discreet Charm Of The Bourgeoisie (Le Charme Discret de la Bourgeoisie)
Audience Reviews for The Discreet Charm Of The Bourgeoisie (Le Charme Discret de la Bourgeoisie)
A surrealist comedy of discreet humor that will probably not make you laugh as much as you will feel embarrassed for all of its petty bourgeois characters, and once again Buñuel smartly plays with his film's structure, this time to cast a slyly provocative and cynical view on society.
Carlos Magalhães
Super Reviewer
If you have no sense of humor going into this, you wont get it at all. This film has a non-linear narrative where things just happen for the sole purpose of exploring the discreet charm of the bourgeoisie which the title tells us it's about. In other words it's a social critique of the upper classes. The way they react and behave in the situations in the film is very funny. I recommend this movie.
Luis Buñuel is an acquired taste that I sometimes have trouble acquiring. His films can be a little cryptic and transcendent (or confusing and pompous - depending on your point of reference). The Discreet Charm of the Bourgeoisie is an exercise in precise meandering that will either pull you along by your belt loops or leave you standing befuddled in its wake.
Randy Tippy
Super Reviewer
The Discreet Charm Of The Bourgeoisie (Le Charme Discret de la Bourgeoisie) Quotes
There are no approved quotes yet for this movie.