The Divide
(2012)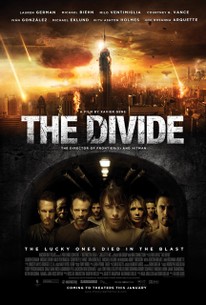 Movie Info
In this graphic and violent, post-apocalyptic thriller, nine strangers-all tenants of a New York high rise apartment-escape a nuclear attack by hiding out in the building's bunker-like basement. Trapped for days underground with no hope for rescue, and only unspeakable horrors awaiting them on the other side of the bunker door, the group begins to descend into madness, each turning on one another with physical and psycho-sexual torment. As supplies dwindle, and tensions flare, and they grow increasingly unhinged by their close quarters and hopelessness, each act against one another becomes more depraved than the next. While everyone in the bunker allows themselves to be overcome by desperation and lose their humanity, one survivor holds onto a thin chance for escape even with no promise of salvation on the outside. -- (C) Anchor Bay
News & Interviews for The Divide
Critic Reviews for The Divide
Audience Reviews for The Divide
½
To survive the end of the world you must first survive each other. Great Film! The performances felt real. The mood was perfectly dark and doomish. This post-apocalyptic take on humanity is not the most positive, but it is positively one of the bests! The cinematography and few special effects are good, especially for the budget. The story with its sci-fi elements briefly introduces a world of wonder, before shutting the door closed on hope and humanity. It is saved by sparkles of effective comedy, but transgresses into a struggle to survive at any price. What is there left? Humanity? Dignity? Love? Compassion? Not really. As dark is it it, this vision hopefully encourages us to do better in our own lives. No need to wait for a nuclear explosion to figure out what is our desired behaviour for betterment. Totally worth watching!!! In this graphic and violent, post-apocalyptic thriller, nine strangers-all tenants of a New York high rise apartment-escape a nuclear attack by hiding out in the building's bunker-like basement. Trapped for days underground with no hope for rescue, and only unspeakable horrors awaiting them on the other side of the bunker door, the group begins to descend into madness, each turning on one another with physical and psycho-sexual torment. As supplies dwindle, and tensions flare, and they grow increasingly unhinged by their close quarters and hopelessness, each act against one another becomes more depraved than the next. While everyone in the bunker allows themselves to be overcome by desperation and lose their humanity, one survivor holds onto a thin chance for escape even with no promise of salvation on the outside.
"To survive the end of the world you must first survive each other." Survivors of a nuclear attack are grouped together for days in the basement of their apartment building, where fear and dwindling supplies wear away at their dynamic.
REVIEW
The Divide begins at the instant a nuclear missile hits a city. Some occupants of a building run into a basement and hide from the carnage. From this point on these survivors begin their descent into a hell of their own making as madness and primal aggression take hold. This is a pretty unpleasant film to tell you the truth. The levels of degradation that the people in the bunker resort to is fairly grim. Physical, verbal and sexual violence all manifest themselves as these survivors lose touch with their humanity. They are not a particularly nice bunch of people to begin with, so this does pose some problems for us as an audience empathizing with any of them. Nevertheless, the film does generate quite a bit of suspense and there are some very unpleasant moments of nastiness. So it does work in a brutal in-your-face kind of way. And this is the movie's chief selling point. While the setting is almost exclusively limited to the bunker, there is one unusual moment where one of the survivors is able to exit the confines of the building and come briefly into contact with the enemy. It's a very bizarre sequence where the mysterious bad guys appear to be storing children - one of which they earlier snatched from the bunker - in incubators. The children look either dead or blinded. It's horrific and utterly strange. Immediately after this the mysterious enemy weld our heroes back into their bunker and are never seen again. After this point the microcosm of the bunker just goes from bad to worse, as some inhabitants go mad and others sadistically insane. Overall, The Divide is a nasty movie with a very pessimistic view of how life in these extreme conditions will play out. If you like apocalyptic films on the more grimy and violent side of the spectrum then this is one to see.
Lorenzo von Matterhorn
Super Reviewer
MisterYoda ?
Super Reviewer
The Divide Quotes
There are no approved quotes yet for this movie.