The Diving Bell and the Butterfly
(2007)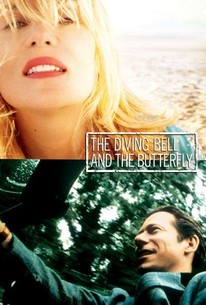 The Diving Bell and the Butterfly Photos
Movie Info
The astonishing true-life story of Jean-Dominic Bauby -- a man who held the world in his palm, lost everything to sudden paralysis at 43 years old, and somehow found the strength to rebound -- first touched the world in Bauby's best-selling autobiography The Diving Bell and the Butterfly (aka La Scaphandre et la Papillon), then in Jean-Jacques Beineix's half-hour 1997 documentary of Bauby at work, released under the same title, and, ten years after that, in this Cannes-selected docudrama, helmed by Julian Schnabel (Basquiat) and adapted from the memoir by Ronald Harwood (Cromwell). The Schnabel/Harwood picture follows Bauby's story to the letter -- his instantaneous descent from a wealthy and congenial playboy and the editor of French Elle, to a bed-bound, hospitalized stroke victim with an inactive brain stem that made it impossible for him to speak or move a muscle of his body. This prison, as it were, became a kind of "diving bell" for Bauby -- one with no means of escape. With the editor's mind unaffected, his only solace lay in the "butterfly" of his seemingly depthless fantasies and memories. Because of Bauby's physical restriction, he only possessed one channel for communication with the outside world: ocular activity. By moving his eyes and blinking, he not only began to interact again with the world around him, but -- astonishingly -- authored the said memoir via a code used to signify specific letters of the alphabet. In Schnabel's picture, Mathieu Amalric tackles the difficult role of Bauby; the film co-stars Emmanuelle Seigner, Marie-Josée Croze, Anne Consigny, and Patrick Chesnais.
Critic Reviews for The Diving Bell and the Butterfly
Audience Reviews for The Diving Bell and the Butterfly
One of the most stunning emotional knockouts recorded in cinematic history concerning an editor (Mathieu Amalric) who suffers a massive stroke, but remains determined to write his memoirs of his experiences through communicating with the only part of his body that isn't paralyzed, one of his eyes, to an aide. What director Julian Schnabel has constructed is an unnerving, extremely personal masterpiece in struggling to overcome an affliction, and the self-doubts, guilt, anger, and fleeting hope one encounters along the way. The acting is very good, although that is not what is most impressive about the film, which is how it is told through Amalric's character's perspective, showing just how much of a struggle something like this can be. While it is relentlessly sad, it is powerful and incredibly moving all the way through. This is a movie that should be a must-see for anyone who knows someone dealing with a stroke or some other kind of physical ailment. It does a flawless job capturing the emotional cycle and inner-thoughts of someone who deals with it, somehow, someway.
Dan Schultz
Super Reviewer
½
Bold first-person film-making reigns in this true story that reminds us that our lives can be changed completely at any given moment: a well-to-do magazine editor suffers a stroke and becomes paralyzed save for the blinking of one eye. Through a therapist's inventive solution - a board of letters starting with those most commonly used - he learns to communicate by answering yes or no to the letters, and thus writes his autobiography. Bit of a one-note film, overall, but touching and shot in creative manner true to the source's autobiographical nature.
Daniel Perry
Super Reviewer
½
Terrific! That's the thing I was talking about!
Lucas Martins
Super Reviewer
The Diving Bell and the Butterfly Quotes
| | |
| --- | --- |
| Jean-Dominique 'Jean Do' Bauby: | I've decided to stop pitying myself. Other than my eye, two things aren't paralyzed. My imagination, and my memory. |
| | |
| --- | --- |
| Roussin: | Hold fast to the human inside of you, and you'll survive. |
| | |
| --- | --- |
| Jean-Dominique 'Jean Do' Bauby: | We're all children, we all need approval. |
| | |
| --- | --- |
| Jean-Dominique 'Jean Do' Bauby: | A poet once said, "Only a fool laughs when nothing's funny" |