The Dogs of War
(1980)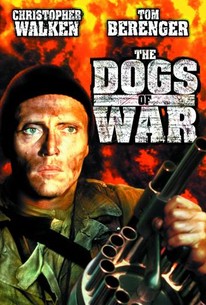 Movie Info
Adapted from the Frederick Forsythe novel, Dogs of War focuses on a mercenary named Shannon (Christopher Walken), who is hired by a wealthy businessman to topple a small African government. An initial reconnaissance mission goes haywire, however, and Shannon ends up in prison; A fellow inmate, renowned as a freedom fighter, provides the information he needs to complete the mission.
Critic Reviews for The Dogs of War
Audience Reviews for The Dogs of War
It's an okay movie with good actors, but I was wanting to see more action, and this is mostly a dramatic film about life after the war. Felt like it could have had a better balance of those two. I was bored.
Classic and undderated! Noone gives this mercenary war movie enuff credit - it deserves heaps more! Christopher Walken is Shannon, the mercenary hired to subvert a small African nation for high paying executives - until his encounter as a prisoner and his morality takes charge in his firestorm war against the totalitarian government. WONDERFUL!