The Drop
(2014)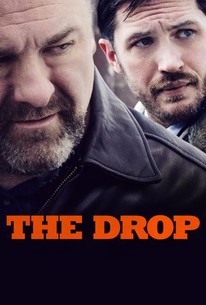 TOMATOMETER
AUDIENCE SCORE
Critic Consensus: There's no shortage of similarly themed crime dramas, but The Drop rises above the pack with a smartly written script and strong cast.
Movie Info
THE DROP is a new crime drama from Michaël R. Roskam, the Academy Award nominated director of Bullhead. Based on a screenplay from Dennis Lehane (Mystic River, Gone Baby Gone), THE DROP follows lonely bartender Bob Saginowski (Tom Hardy) through a covert scheme of funneling cash to local gangsters - "money drops" in the underworld of Brooklyn bars. Under the heavy hand of his employer and cousin Marv (James Gandolfini), Bob finds himself at the center of a robbery gone awry and entwined in an investigation that digs deep into the neighborhood's past. Also featuring Noomi Rapace, Matthias Schoenaerts, Ann Dowd and John Ortiz. (C) Fox Searchlight
Critic Reviews for The Drop
Audience Reviews for The Drop
The Drop is one of those films that almost sneaks by an audience but strangely there's still something that catches the eye. That something may be because it's yet another adaptation of the normally successful page to screen transfer of crime novelist Dennis Lehane (Gone Baby Gone, Mystic River, Shutter Island), the English language debut of Bullhead director Michaël R. Roskam or that it features the last screen performance of the late, great James Gandolfini. All of these are reason enough to see it, but the one that really makes it worthwhile is a quietly commanding Tom Hardy. Bob Saginowski (Tom Hardy) is a quiet, unassuming bartender working with his cousin Marv (James Gandolfini) in his Brooklyn bar. Marv is a bit of a has-been who lost his bar to incoming Chechen gangsters who use the establishment as a "drop" for illegal money takings. However, when the bar is robbed it puts them in a tight spot and leads to an investigation that brings up the past and the depths of the neighbourhood's criminal affairs. The Drop has come in for a fair bit of criticism from numerous corners. Predominantly these issues have stemmed from plot strands not coming together or Lehane going a bit on the soft side and to a minor extent I can agree with this. There are some problems with the narrative, namely a religious sub-plot involving John Ortiz's church-going cop that feels misplaced and underdeveloped and the talented likes of Noomi Rapace is wasted in a woefully underwritten supporting role. However, what the film manages to capture is a perfect sombre mood and uses a patient approach that very much works in it's favour. Cinematographer Nicolas Karakatsanis captures Brooklyn in all it's blue collar edginess while the two central characters in Bob and Marv are afforded the space to grow and develop at their own pace - resulting in both Gandolfini and, especially, Hardy raising the film to a whole other level. There's also a good support from rising Belgian actor Matthias Schoenaerts (Bullhead, Rust and Bone). However, Gandolfini's presence hangs heavily over the film and it's a real shame that this is the last we'll see of this fantastic actor. That being said, he's not the main player and you get the impression that Gandolfini is happy to step aside and allow Hardy to do his thing. I don't suppose there's anything here that hasn't been done before but that still doesn't take away from this slow-burning, gritty drama. It's a fine addition to a sub-genre that I have a real soft spot for and that's, ultimately, down to the strong performances. Roksam has a good command over Lehane's prose and dialogue but the plot comes secondary to the characterisation. And in terms of Hardy and Gandolfini, there's plenty of that to be had. We may have lost a great actor that'll be hard to replace in Gandolfini, however, rising star Schoenaerts is deservedly becoming more prolific and Tom Hardy just continually manages to impress. The Drop's low-life tale of criminality benefits from seeing all three deliver solid work. Mark Walker
Mark Walker
Super Reviewer
½
I knew very little of this movie when I saw a small tv advertisement for the dvd. I thought man, James Gandolfini and Tom Hardy, this HAS to be good. So, I gave it shot. It's about 2 guys that work at a drop bar that gets robbed. One of them may or may not have had something to do with it, and from there a web of lies and deception forms as the police investigate the robbery and a murder of a neighborhood local. I don't want to go too much into it, because I knew very little going in, and that plays to the strength of the movie. This film is pretty slow, and about an hour in you may check your watch and be like "this has to go somewhere!" But I PROMISE you, STICK with it! This movie has a great payoff and unlike a lot of movies nowadays, it finishes strong. Gandolfini gives a great performance, and it's so hard to believe he is gone. Tom Hardy proves once again he is one of the most underrated actors out there. The guy has IT and is just something special when he is in a movie. If you like movies like "The Departed" or "The Town", then you should check it this out. Not as good as those, but it's in the same ballpark.
Everett Johnson
Super Reviewer
Even if the characters are interesting (with the exception of a useless policeman that shouldn't even be there) and the slow-burning plot is engaging, the clunky ending makes it feel like it doesn't know exactly what it wants to say, with its last two scenes being redundant and inconsistent.
Carlos Magalhães
Super Reviewer
The Drop Quotes
| | |
| --- | --- |
| Cousin Marv: | It's like you're wrapping a piece of meat. Like you've done it a thousand times. |
| | |
| --- | --- |
| Bob Saginowski: | Go out for a dinner still dressed like you're in your living room. You wear those big, you wear those big hippity hoppity clown shoes and you speak to women terribly. You treat them despicably. You hurt harmless dogs that can't even defend themselves. I'm tired of you man. I'm tired of you, you embarrass me. You know we would've kept coming back. That's what he would've done. People like this they take something from you, and you let them, they just act like they can keep coming back and you still owe them something and they never, never change. You can never change their mind. |
| | |
| --- | --- |
| Bob Saginowski: | There are some sins that you commit that you can't come back from, you know, no matter how hard you try. You just can't. It's like the devil is waiting for your body to quit. Because he knows, he knows that he already owns your soul. And then I think maybe there's no devil. You die... and God, he says, Nah, nah you can't come in. You have to leave now. You have to leave and go away and you have to be alone. You have to be alone forever. |
| | |
| --- | --- |
| Detective Romsey: | They never see you coming, do they Bob? |