The Dyatlov Pass Incident (Devil's Pass)
(2013)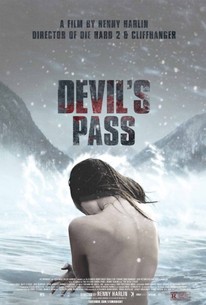 The Dyatlov Pass Incident (Devil's Pass) Photos
Movie Info
Fact: In February of 1959, nine Russian hikers ventured into a remote area of the Ural Mountains in Russia. Fact: Two weeks later, all nine were found dead. What happened to them is a mystery that has baffled investigators and researchers for decades. It has become known as the Dyatlov Pass Incident. Rumors have attributed their deaths to everything from alien encounters and government conspiracies to supernatural causes. To date, no one has been able to adequately explain what drove nine experienced hikers from their tents so frantically that they ripped through the material from the inside; or how their bodies came to be exposed to such dangerous amounts of radiation that it was still detected weeks later. And no one knows why they were discovered hundreds of yards from their camp, half dressed and with internal injuries including broken ribs and fractured skulls, but with no external wounds at all. The body of one young woman was even missing her tongue. Present Day: Five ambitious American college students are issued a grant to return to the site of the original events in the belief that they can uncover and document the truth of what happened at Dyatlov's Pass. But what they find is more shocking than anything they could have imagined. Their trek through the Ural Mountains, retracing the steps of that ill-fated journey, is plagued by strange and increasingly terrifying phenomena, all of which suggest that in spite of their desolate surroundings, they are not alone. The forces behind the Dyatlov Pass Incident have been waiting for them. The students' recently recovered footage - the only clue to what happened to them - was deemed too disturbing for public eyes. But, like everything else connected to Dyatlov's Pass, the truth has found its way out. (c) IFC Films
News & Interviews for The Dyatlov Pass Incident (Devil's Pass)
Critic Reviews for The Dyatlov Pass Incident (Devil's Pass)
Audience Reviews for The Dyatlov Pass Incident (Devil's Pass)
Ah, the found footage genre, one of the more polarizing subgenres in recent memory. When it's done well, it can have an incredible effect on the mood and the tone of the film. As seen in films like Rec, which still remains the peak of the genre, or Trollhunter. Films like Devil's Due or The Devil Inside go in the opposite direction, with awful shot selection that nauseate you rather than draw you in to the suspense. I guess this film would fall somewhere in the middle, despite the below average rating, I didn't actually think this was that bad of a movie. The reason it did get the below average rating would simply be due to the fact that the film was really boring to begin with. While the Dyatlov Pass incident is one of the more interesting and mysterious incidents in mankind due to the mysterious nature of the hikers' deaths, and this film does a decent enough job at portraying that, this film does not have nearly enough material to justify a 90+ film. This isn't unique to this particular movie, as man horror films suffer from this same issue, but it's something that is a problem in so many horror movies that you'd think filmmakers would consciously start to find the right time to end their film rather than dragging it on with boring and uninteresting filler. Thankfully, though, this film does get better as it goes along and it does, surprisingly, manage to throw in some sci-fi elements in there, such as time-travel, teleportation devices, among others. It actually mixes it in a clever little that doesn't detract from what you saw prior to that. Of course, it might not make a lick of sense if you really think about it, but I think it does work within the context of a horror movie. The film itself is definitely lacking in scares and gore. I don't even know what they're trying to do here to be perfectly honest. It lacks pretty much all the things that most horror films of this type rely on nowadays. Gore and jump scares. In my opinion, it honestly doesn't even have good enough tension. And it's not like The Descent, where they make mountain hiking look terrifying or anything. I suppose there is some of that, but I wouldn't call it very effective in the least. It should've been easy to pull it off, with the threats of avalanche at any moment, or getting lost because of malfunctioning equipment. The sad thing is that this movie actually did try both of these things to no real effect. The avalanche was caused by 'the government' trying to kill the hikers for simply going farther than they should've in their quest. The film does have its funny lines, but they're not nearly to make the rough beginning any less rough. The acting isn't very good, but this is a low-budget horror flick, so you can't really expect much on that front. The monster CGi looked absolutely terrible, it would look good if it was a pre-rendered cutscene from Final Fantasy 10. If you're unaware, Final Fantasy 10 is a videogame that came out FOURTEEN years ago. At the time of this film's release, 2013, it was only 12 years, but that should tell you how bad it actually looks when it'd look good on a game that's half a decade old. This is the only moments where the film really does kind of work as a traditional horror movie. It's very minimal, but the tension is there. It's just a shame the computer graphics looked so bad. In spite of all my complaints, this movie isn't nearly as bad as it actually reads. I got through watching it without wanting to pull my hair out or anything. It's a perfectly watchable horror movie, which is more than most can say these days. I wouldn't really recommend it, unless your horror thirst is such that you must watch it. Dead Snow 2 is available on Netflix, just saying.
Jesse Ortega
Super Reviewer
A mixture of Blair Witch and Chernobyl Diaries, Devil's Pass is an intense and frightening thriller. Filmed in a found footage style, a group of students retrace the steps of a famous Russian exposition that was mysteriously lost while exploring a mountain passage. The writing is especially good; particularly in how it subtly builds from a mundane mountain trek into a conspiratorial thriller. Additionally, the cast is pretty good and helps to give the footage an authentic feel. Still, the characters are a little underserved and aren't fleshed out too much beyond what's needed for the story. Devil's Pass has some weak point, but overall it's a smart and compelling horror film that does a remarkable job at using the found footage genre.
Dann Michalski
Super Reviewer
½
Yet another bunch of american kids pick up some cameras and go where they shouldn't go. I don't have a problem with the hand-held camera approach at all. Some of my favorite recent horror flicks were shot like this, it's just that this storyline approach is quickly grow so so old. Devil's Pass plays like all the others, whilst featuring some gorgeous sightings and it's actually pretty well crafted. Many people have been complaining about the twists and whatnot, but I didn't mind the crazy mix of things, it's actually what could've set it apart from others. Problem is that it's all very underwhelming and they were obviously bitting more than they could chew on this one. No matter how cool or good your intentions were, the budget held things back a lot by the end. Still, fairly entertaining albeit cliché as hell.
Francisco Godinho
Super Reviewer
The Dyatlov Pass Incident (Devil's Pass) Quotes
There are no approved quotes yet for this movie.