The Edge of Seventeen
(2016)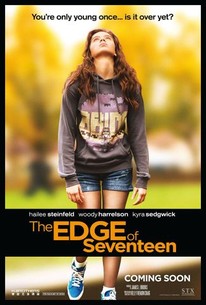 TOMATOMETER
AUDIENCE SCORE
Critic Consensus: The Edge of Seventeen's sharp script -- and Hailee Steinfeld's outstanding lead performance -- make this more than just another coming-of-age dramedy.
The Edge of Seventeen Videos
The Edge of Seventeen Photos
Movie Info
THE EDGE OF SEVENTEEN is a new coming-of-age movie in the vein of Sixteen Candles and The Breakfast Club - an honest, candid, often hilarious look at what it's like to grow up as a young woman in today's modern world. Everyone knows that growing up is hard, and life is no easier for high school junior Nadine (Hailee Steinfeld), who is already at peak awkwardness when her all-star older brother Darian (Blake Jenner) starts dating her best friend Krista (Haley Lu Richardson). All at once, Nadine feels more alone than ever, until the unexpected friendship of a thoughtful boy (Hayden Szeto) gives her a glimmer of hope that things just might not be so terrible after all. The film also stars Kyra Sedgwick as Nadine's well-meaning but completely ineffective mother, and Woody Harrelson as Nadine's History teacher, mentor and reluctant sounding board. The Edge of Seventeen is produced by Academy Award winner James L. Brooks - the filmmaker behind big-screen, character-driven classics such as Terms of Endearment, Broadcast News, Big, Say Anything, The Simpsons, Jerry Maguire and As Good as It Gets.
Critic Reviews for The Edge of Seventeen
Audience Reviews for The Edge of Seventeen
Essentially hoisted by a remarkable performance from Hailee Steinfeld, the film is a quirky yet relatable tale of adolescence. The Edge of Seventeen's modernized coming-of-age infused with its humorous innuendos and dialogue make for a sarcastic & surprisingly serious sob story. 4/5
Eugene Bernabe
Super Reviewer
½
The adolescent feeling that "nobody understands me" has been done before. The Edge of Seventeen is a fresh take that adds to a genre already crowded with a lot of great films. Let's give major props to a star who continues to impress, Hailee Steinfeld. Ever since she was famously introduced as Mattie Ross in True Grit, she continues to make her film presence known. As the teen at the center of this tale, Halle Steinfeld manages to pull off the miraculous. On the one hand, she is rude, crude, and misanthropic. Her misfit high school junior is kind of a jerk. And yet we see the lovable warmth within. She's a difficult personality but her snark is infused with enough wit that we embrace this youth. Director Kelly Fremon Craig's vision is an innovative take on a woman's odyssey through high school. Her screenplay treats each role with fairness and depth. Steinfeld is the MVP of the picture. Naturally, she should be. It's her chronicle. And yet everyone in the production gets a chance to shine. The surprise is, despite all their foibles, we still embrace these people. When her best friend starts dating her brother, we grasp Nadine's frustration. Her world logically (and predictably) comes apart. The way it's handled, however, subverts expectations. You think you know these characters, but you don't. fastfilmreviews.com
Mark Hobin
Super Reviewer
Not bad, but I found the heroine annoying and self centered (I know, she's 17). Her best friend, the same age, was much more likable. I have seen many movies with this theme that I liked much more, but it's worth a watch still. Maybe just the one watch for me.
Nicki Marie
Super Reviewer
The Edge of Seventeen Quotes
There are no approved quotes yet for this movie.