The Efficiency Expert
(1992)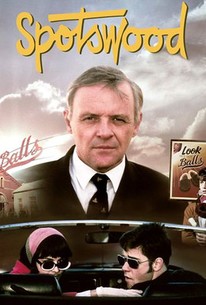 The Efficiency Expert Photos
Movie Info
Also released as Spotswood, The Efficiency Expert stars Anthony Hopkins as Wallace, a cold-blooded management consultant, infamous for radically "downsizing" every firm he comes in contact with. Wallace's latest assignment is to streamline a small, family-owned shoe factory in Australia. As he gets to know the eccentric (and endearingly inefficient) factory workers, Wallace undergoes a slow-but-sure "humanizing" process. Eventually realizing that he can simultaneously cut costs and preserve the dignity of the workers, he finds a way to modernize the operation without a single firing. In traditional fashion, the main story shares screen time with a romantic subplot involving the factory-owner's son and a female employee. Characterized by many critics as "Capraesque," The Efficiency Expert also bears trace of all those Ealing comedies of the 1950s.
Critic Reviews for The Efficiency Expert
All Critics (6) | Top Critics (2) | Fresh (4) | Rotten (2)
It's interesting, the way Hopkins' face relaxes as the movie continues and his character learns, perhaps for the first time, that time and motion studies are about people, not facts.

The eccentricities of the characters and the nostalgia emanating from the wonderfully evocative production design by Chris Kennedy all add up to a charming film of considerable entertainment value. It is a minor classic of Australian cinema.
August 11, 2007
This is a minor comedy, in the style of Ealing films from the 1950s, of the little man against the bureaucrats.
Audience Reviews for The Efficiency Expert
Anthony Hopkins is the titular character, hired to straighten the kinks in an industrial town mainstay going under down under. At the same time his own marriage is going south as well. Can he turn the shoe factory around, save the jobs of the curiously eccentric locals who depend on the economy the plant provides and keep his self-esteem intact? And what about those locals, eh, what breed of animal are they? The answers to these questions are what make this particular clock tick and its in viewing the working of it that pleasure is gained. Toni Collette, Russell Crowe and Ben Mendelsohn, name stars now, all contribute freshman efforts here, which is one reason to see this, but the overall redemptive tone of the work is satisfactory all on its own.
Kevin M. Williams
Super Reviewer
"An everyday story about loyalty, betrayal, lust and footwear." The Efficiency Expert is an extremely lame movie on most levels. It has a few things going for it, like Anthony Hopkins who is really good and Russell Crowe in a very early and small role. It's easy to see why I had never heard of this film before. It's pretty unlikable. The characters outside of Hopkins' are terrible, the story is a mess, and it's all rather dull, weird and for long periods, extremely boring. The only thing that keeps it going is Hopkins. Errol Wallace is an efficiency expert who goes into businesses that are failing and figures out what they need to do to start making money again. Most the time, that means downsizing. The main story is Wallace going to a Moccasin factory, where the owner is very loyal to his employees. Then there's little love stories going on and a side story with Wallace and his partner getting backlash for firings at another factory. The Efficiency Expert isn't worth the short hour and twenty nine minute runtime, unless you're like me and just want to see everything Anthony Hopkins has ever done. If you're not a completist, then this is definitely one to skip. 
Melvin White
Super Reviewer
Pretty lame for a film that had some top notch familiar faces in their earlier careers. Such a waste...but I guess that they had to start somewhere.
Cynthia S.
Super Reviewer
The Efficiency Expert Quotes