The Eiger Sanction
(1975)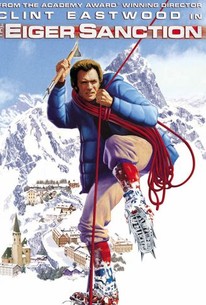 The Eiger Sanction Photos
Movie Info
Clint Eastwood both directed and starred in this thriller based on a novel by Trevanian. Dr. Jonathan Hemlock (Eastwood) is a professor of art history who formerly had a deadly secret life; he was a hired assassin working with an international intelligence organization. Normally content to collect and study art, Hemlock is forced by blackmail to perform one last hit, or, as the organization euphemistically calls it, a "sanction." The victim will be one of three men attempting a dangerous ascent of the Eiger, a beautiful but punishing mountain range in Swiss Alps. While Hemlock is an experienced mountaineer and willing to make the climb, he's troubled to discover that he does not know which of the other three men scaling the Eiger is his true target. The supporting cast includes George Kennedy and Jack Cassidy; the latter earned enthusiastic reviews for his over-the-top performance as a flamboyantly gay secret agent.
Critic Reviews for The Eiger Sanction
Audience Reviews for The Eiger Sanction
A top-notch classic. A smart, well-crafted, exciting and intriguing action-thriller. A tense, topical and riveting thrill-ride packed with exciting climbing sequences and action scenes. Clint Eastwood is terrific, he`s stylish, cool and very confident in his performance and as director. A surprisingly effective and thrilling movie that's worth the visit. Even with today's standards this film still works.
Clint Eastwood plays James Bond wannabe Jonathan Hemlock in this espionage thriller. Eastwood should never play a spy or a Russian stealing a badly rendered jet. There, I've said it. This film is almost a parody of James Bond films, going so over the top with its characters. The government boss is an albino for christ sakes. Jack Cassidy plays an uber flamboyant homosexual with a dog named Faggot. George Kennedy is the only actor in the film that doesn't really seem out of place as Eastwood's mountain climbing trainer. Eastwood directs the film adequetly and the only reason to see this film is for the mountain climbing scenes. Seriously, there's a character called Jemima Brown.
Chris Garman
Super Reviewer
½
An interesting movie... a bit underrated - Eastwood goes secret agent an mountain climbing. An interesting story - a bit slow but it all comes together at the end when you find out the truth. This movie is special due to its script - a sharp, witty script with some good liners and simple jokes which gives it some humor and removes some boredom in scenes.
The Eiger Sanction Quotes
There are no approved quotes yet for this movie.