The Emerald Forest
(1985)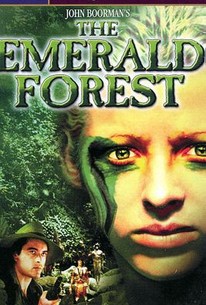 The Emerald Forest Photos
Movie Info
The Emerald Forest is based on a true story, as related by Los Angeles Times correspondent Leonard Greenwood. Powers Boothe stars as Bill Markham, a US engineer working on a dam project in the Amazonian jungles. Bill's young son, Tomme (played by director John Boorman's son Charley Boorman) is kidnapped in the rain forest by a tribe called "The Invisible People" because of their skills at camouflage - a group that has reportedly never experienced contact with Caucasians. The authorities give up the boy for lost, but Bill perseveres in searching for his son, for over 10 years. While fleeing for his life from The Fierce People - enemies of The Invisible People - he's rescued at the last minute by Tomme, now an adoptee of The Invisible People's chief. To Bill's frustration, Tomme initially refuses to join his biological dad and return to civilization, but when The Fierce People swing in and abduct all of the women in the Invisible People tribe, Tomme seeks his dad's help in rescuing them.
Critic Reviews for The Emerald Forest
Audience Reviews for The Emerald Forest
½
There was this quiet and more cohesive film from John Boorman long before the mediocre pastiche and box office sensation of "Avatar". Adventure and drama set in the amazonia, following the lines of Ford's "The Searchers" but adding an ecological denounce that does not fall in preachment, but remains powerful. Cinematography is breathtaking.
Pierluigi Puccini
Super Reviewer
This is what happens when the Amazon forest is destroyed
Tom Ericksen
Super Reviewer
½
Another of John Boorman. His son Charlie Boorman is amazing as the lost son of an architect that is stolen by a hidden Amazon trible. Great movie and great story with amazing graphics and intrigue.
Donna Dawson
Super Reviewer
The Emerald Forest Quotes
There are no approved quotes yet for this movie.