The End
(1978)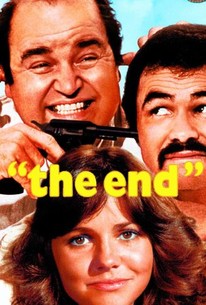 Movie Info
Filled with jet-black gallows humor, this farcical comedy chronicles the quest of a terminally ill man to commit suicide. His first couple of attempts land him in a special rest home where he meets a loyal schizophrenic who vows to help his new friend end his life.
Critic Reviews for The End
Audience Reviews for The End
A hilarious dark comedy with an all star cast, and directed by Reynolds. I love it, and I highly recommend it.
This movie is terrible. It also shows that Burt Reynolds is an egotistical maniac. Bar none, it has the most unfunny racial humor I have ever heard. (Imagine Clint Eastwood in Gran Torino, but not funny and every "joke" making you feel sleazy for being a white person). Then Dom DeLuise (did he have something going on the side with Burt?) kept saying these retarded Polish jokes that I heard when I was a kid and they weren't funny then. Everyone in this movie is terrible (Sally Field LOOKS amazing in this film). I imagine Burt sitting back and watching the dailies and thinking what a funny guy he was while everyone of his ass-kissing crew sat around and chuckled along with him. It is rare when you can find a movie that shows the true soul of a filmmaker, and in the case of Burt Reynolds, he's a douschebag.
Rating this from memories of long ago. Need to see it again. Rating may or may not change.
The End Quotes
There are no approved quotes yet for this movie.