The Endless
(2018)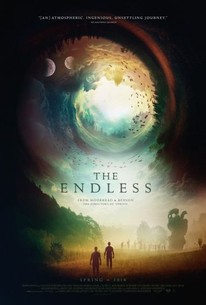 TOMATOMETER
AUDIENCE SCORE
Critic Consensus: The Endless benefits from its grounded approach to an increasingly bizarre story, elevated by believable performances by filmmakers Justin Benson and Aaron Moorhead.
Movie Info
Following their Lovecraftian modern cult classic SPRING, acclaimed filmmakers Moorhead and Benson return with this mind-bending thriller that follows two brothers who receive a cryptic video message inspiring them to revisit the UFO death cult they escaped a decade earlier. Hoping to find the closure that they couldn't as young men, they're forced to reconsider the cult's beliefs when confronted with unexplainable phenomena surrounding the camp. As the members prepare for the coming of a mysterious event, the brothers race to unravel the seemingly impossible truth before their lives become permanently entangled with the cult.
Critic Reviews for The Endless
Audience Reviews for The Endless
½
Much like its sister-film Resolution, this is a mostly uneventful low-budget science fiction that takes forever for things to start to happen - and when they finally do, the result doesn't live up to its promising ideas, becoming only confusing and disappointing in its execution.
Carlos Magalhães
Super Reviewer
½
Inspired filmmaking and with a bizarre concept we are left with an indie film that puts Hollywood to shame. This is like a Shane Carruth created film, it has elements of intelligence and carefully crafted storytelling. Justin Benson, Aaron Moorhead will have a bright future in the film industry, they may not have the fame or glory, but they will have body of work that reflects the talent behind them. The Endless was a hard film to explore, it wants to be more than the budget allows, which is a shame, but on the other hand it inspires creativity. You will never see a Hollywood film like this, they won't make a big budget film where you need to think. The Endless is one of my favourite new films, even though it came out in 2017. I enjoyed the hell out of it and will recommend it to everyone. Beware it is an indie film, but don't let that discourage you. 09/12/2018.
Brendan O'Connor
Super Reviewer
Look, I'm probably gonna have a lot to say about this movie and this will most likely include major spoilers for what is going in this cult and the strange occurrences therein and, really, the surrounding area. So, just as a warning, if you do not want any spoilers and want to go in as blindly as you possibly can, then just don't bother reading this review. The score will reflect what I thought of the movie, if you're curious what I did think. But, I'll just say it right now, I thought that this was a great, thought-provoking and effective low-budget sci-fi with a lot of big ideas and themes that it explores interestingly and effectively. Regardless, a little bit of backstory. I had seen the trailer for this movie a few months ago and, naturally, as trailers are wont to do, they show blurbs of the reviews showering praise upon this movie and also praising Justin Benson and Aaron Moorhead skills as screenwriters and filmmakers, etc, etc. This movie's description on Rotten Tomatoes mentions that this movie is their follow-up to the 'Lovecraftian modern cult classic Spring'. And I was intrigued by that, because I assumed that I hadn't seen Spring. The thing about that title is that it's not specific enough to make the light bulb in my brain go off and say 'hey, you've seen that movie'. I actually waited until yesterday to look up Spring and, in fact, I DID see that movie. And, at the time, I showered praise upon it as well, as it was a lovely, subversive and very clever horror romance with an incredibly sweet, but completely earned, ending. Then I did more research into who Justin Benson and Aaron Moorhead actually were and, in fact, I have seen everything of theirs, that has ever been released at least. Yes, I saw Resolution as well and, again, it was a movie that I also enjoyed, while not showering it with as much praise as I did for Spring and as I, eventually, will for this movie. So yes, Justin Benson and Aaron Moorhead have made their careers on subverting the genres of whatever genre they may be attempting for years now. And, you know what, they're doing it on minuscule budgets. Resolution cost $20,000 to make, which is nuts when you really think about it and how they were able to do what they did with so little money. I can't find out what Spring and this movie cost to make, but I imagine that they're still sticking to their low-budget roots. And, you know what, Aaron and Justin are better for it because, a lower budget means they have to think of more creative ways to tell their story. I assume that this is what ends up driving them to subvert the tropes with the associated genre they choose to explore. I don't know if this is self-imposed or if that creativity and intelligence would translate to, say, a movie in the MCU or any other big budget affair (since I feel they would have to give up a lot of control), but I like the fact that these guys are actively choosing to change the perception of what genre movies can be by refusing to play into tropes and writing smart scripts that challenge you mentally. If there's any flaw that might be perceived about this movie is that it's too vague and, ultimately, there are more questions than answers. This is a fair point, because I had a fair few questions myself. But, unlike other movies, I do believe that that's part of the fun of this movie. Just asking yourself all these questions as to how this 'entity' came into existence, how these time loops work, how long the 'cult' (and anyone else in a loop) has been around, whether Justin and Aaron have always been a part of the loop, whether the ending means that Justin and Aaron created their own loop after escaping the cult's loop or if it's something much simpler than that. These are just some of the questions that I had and that's just off the top of my head. So yes, I pretty much spoiled the entire mystery. There's this entity that's constantly watching over the people it has in its loops. These loops can last for as short as FIVE seconds to as long as ten years, which is the cult's loop. Say, if you're someone from the outside world and you find yourself INSIDE the loop as it closes, you're gonna be stuck in there forever, in your current age, repeating the same loop over and over and over and over again until the 'entity' gets tired of playing with you. Anyway, the entity kills you at the end of the loop before bringing you back again. Got all that? Regardless, I found the underlying narrative of Justin and Aaron's relationship, Justin escaped the 'cult' and took Aaron with him and he revealed to the world that they're some weird UFO death cult that castrates all of its members. Aaron, slightly, resents Justin for this, since the 'cult' (which Aaron remembers as a friendly commune, where as Justin insists they were a death cult) itself gave them good food, shelter, friends and a sense of family that they needed (as their mother died in a burning car, which they were in). Aaron and Justin, after leaving the cult, have worked dead end jobs where they make little money, have no friends and eat shitty food. The brothers get a tape that motivates Aaron to want to go back to say goodbye if they are, after all, planning to kill themselves (as they reference something called the ascension). Justin resists until, eventually, giving in and allowing Aaron to go. This is one of the most important themes in the film, if not the most important. Justin has always felt the need to control Aaron's life for his own good. And perhaps saying control is a bit too strong, but he feels like he's doing his best to protect his brother, even though that he's no longer a kid and he can make decisions on his own. In many ways, their relationship is sometimes like a rebellious teen with their parents, where the more the parents forbid something, the more the rebellious teen wants to do it. The more Justin resists going back, the more he resists staying another day, the more he resists staying for good in the cult, the more that Aaron wants to do these things. And, ultimately, as bizarre and intriguing as the story is, I think that's, really, the main narrative. It's just that it's easier to focus on the entity that causes time to loop every five seconds, three hours, a week, months, ten years. There's an interesting dynamic here in that Justin, whom you believe the entire time about his claims of this being an UFO death cult, made up everything. There's absolutely no truth to the fact that they're a death cult, there's no truth that people are being held there against their will, there's no castration. And that changes your entire perception of how you view this commune. I feel that, at its start, this might have actually been a peaceful commune, people that just wanted to live together in a peaceful existence off-the-grid. I just think that as the entity took over and they kept repeating the same ten years over and over without explanation that they developed into a cult that worships this unknown and unseen entity and see the ascension as a religious ritual. As far as I could tell from the dates on the tapes in that little room, they've been in the loop since, at the earliest, the 40s. It may have been even earlier, but the tapes flashed by so quick that I couldn't make out all of the dates. And, of course, we have to talk about the entity itself. Before that, though, I should point out that this movie and Resolution exists in the same universe as one of the loops that Justin finds is of the characters from that movie. I realize how that might look, maybe a little self-serving but, in actuality, it's actually really clever usage of that film's themes (which this movie also shares, obviously). And, at the same time, given that there are multiple loops all over this place, they don't use it as something that's gonna go over the head of most people who watch this, since I'm assuming a solid percentage of them may not have even seen Resolution. Having said that, it is a cool little nod to those of us who DID watch Resolution and it adds to this shared universe that Justin and Aaron have built, however small it may be. Despite Spring taking place on the Italian coast, it wouldn't surprise me if that film is also meant to be in the same universe. Let's move on, though, to the entity. I think while there's a mystery to what it is, it's also fairly obvious when you do see from the point of view of the entity. The entity's viewpoints are always first-person so, naturally, the entity is the viewing audience. It's a meta-critique in how, at least some of us, enjoy watching people die horrible deaths and we just want to be amused by making sure that these people (in horror movies) suffer as much as possible. It's like we force these characters into these situations every time we watch one of these movies. We're always watching their every move, seeing how they stumble, struggle and fight back against whatever may be attacking them at any given time. But, unlike Cabin in the Woods (which some people didn't like, weirdly enough), I don't think its message is as forceful as some felt Cabin was. It's a little more subtle and requires far more brainpower. But and, in my opinion, this is where watching Resolution helps tremendously, because the film had that same meta-critique that we demand sacrifice, as it were, in our horror movies. It's actually really clever and intelligently written and I think that's why I liked this movie. Much like Get Out (though Get Out is obviously more socially and culturally relevant than this), this movie is not just necessarily about what you see on screen, it's about forcing you out of your comfort zone and making you think outside the box. In many ways, the film is more about us than it is about whatever is happening in front of our eyes. And I don't mean that to suggest that the movie that I saw wasn't pretty fucking great, because it was. It's compelling, intriguing, subversive, masterfully written and acted. It is an exercise in how to do low-budget sci-fi without the need for major special effects. As it stands, this is probably my second favorite movie of the year. With that said, I think we also need to talk about the ending. So, essentially, the ending has Aaron and Justin make it out of the loop as it starts collapsing unto itself. They're driving down this road and Justin notices that the gas tank is empty and that they should get some gas. Aaron then tells Justin that it has always been empty. I should explain that the moons have great significance to the cult. There's three moons, the moment the third moon is full is when the world starts to collapse in on itself. That's why Justin is racing against the clock to get Justin and get out for good. Anyway, in the ending, as they're driving away and after mentioning the gas tank, you see part of the moon off in the distance and birds flying overhead, which are also significant in the loops. It's left vague, obviously, but you're meant to think that Justin and Aaron may have started their own loop as they came out of the cult's loop. But, and this is a 'make your own ending' type deal, if you're an optimist then you could say that the fuel gauge has always been broken, it's about to get dark (which would explain the moon) and it's not rare to see a bunch of birds flying overhead either. My theory is, and this might be my theory as to the existence of ALL the loops, is that (as mentioned) Justin and Aaron created their own loop as they were exiting one that was closing in on itself. That's what I feel happened in all of the loops. That they all came into existence after one person, whether unknowingly or not, was exiting a collapsing loop. I have no evidence for this and it doesn't explain why the time in each loop differs so greatly from one another. This is a movie that's gonna be hotly debated, to be sure. It's that kind of movie, rich in detail, mystery and intrigue. But, again, it's also a movie that makes you think and challenges you to use your brain. It's obviously not a movie that's gonna hold your hand through some of its mysteries and/or questions. And that's gonna annoy some people, for sure, and I can't say I blame them just as long as they voice their complaints in a thoughtful manner. But I, for one, loved this movie. I really did. Here's to hoping that Aaron Moorhead and Justin Benson continue making quality movies like this, that push genre filmmaking forward.
Jesse Ortega
Super Reviewer
The Endless Quotes
There are no approved quotes yet for this movie.