The Escape Artist
(1982)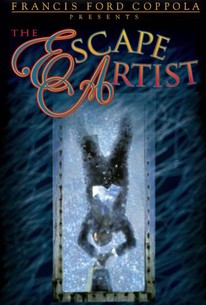 Movie Info
The Escape Artist represents the laudable directorial debut of cinematographer Caleb Deschanel. Griffin O'Neal, the real-life son of Ryan O'Neal, plays Danny Masters, the offspring of a famed magician. Determined to match his dad's accomplishment, Danny runs into nothing but trouble. His biggest mistake is picking the pocket of the son of a corrupt town mayor. When not running from adults, the boy is being exploited by them. A critic's favorite, Escape Artist has slowly built up a cult following over the years, thanks largely to its eclectic supporting cast, including Raul Julia, Desi Arnaz Jr., Joan Hackett, Teri Garr, Jackie Coogan, Huntz Hall and M. Emmet Walsh.
News & Interviews for The Escape Artist
Critic Reviews for The Escape Artist
Audience Reviews for The Escape Artist
½
An interesting movie about a young magician, and it has a good cast, but it gets real confusing at times. Good, but it could be better.
½
"The Escape Artist" starts promisingly enough with teenager Danny Masters(Griffin O'Neal)walking into a newspaper office, claiming that he can break out of a jail in an hour. This makes sense considering that his father was a master escape artist which runs in the family as Danny runs away from his grandmother towards his Aunt Sibyl(Joan Hackett) and Uncle Burke(Gabriel Dell) who have their own stage magic act that is complicated by Sibyl's psychic abilities. All of which are the ingredients for an offbeat and winning movie but alas that's not the case here as "The Escape Artist" is undermined by pedestrian direction and Danny's convoluted involvement with municipal corruption that he first encounters when he steals a wallet from Stu Quinones(a miscast Raul Julia), the son of the mayor(Desiderio Arnaz). While one could conceivably make a case for Danny and Stu joining forces, it is a tenuous connection at best.
The Escape Artist Quotes
There are no approved quotes yet for this movie.