The Escort
(2015)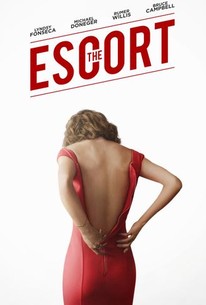 AUDIENCE SCORE
Critic Consensus: No consensus yet.
Movie Info
An unlikely bond forms between two sexually consumed outcasts. Mitch, a sex obsessed journalist, convinces Natalie, a Stanford- educated prostitute, to allow him to follow her around for an exposé he's writing for a magazine. While initially hesitant to allow him into her life, Natalie eventually sees an upside for herself, as she (unbeknownst to Mitch) starts using him as a bodyguard to protect her from the assorted personalities she deals with on a nightly basis. What starts out as a business proposition, develops into something more.
Critic Reviews for The Escort
There are no critic reviews yet for The Escort. Keep checking Rotten Tomatoes for updates!
Audience Reviews for The Escort
½
Part of me has always wondered what can drive a person, both women and men, to pursue a career in the sex worker business. For example, someone who's struggling to put food on the table for the children might pursue a career in prostitution. But that also means giving up a lot of their earnings to a pimp, who provides protection. But when it comes to escorts, a much more high-brow, version of the same thing. While there are escort agencies, there are escorts who work alone and command a pretty penny. They can pick and choose their clients as they please. Hookers, with pimps, can't afford that same luxury, sadly. In my opinion, it should all be legal, that way these women, and men, will get the protections they deserve from people who feel that they can exploit them. But I digress, this brings us to this flick. Thoughts are certainly mixed on this movie. For a romantic comedy, it's certainly lacking in the latter. That's not to suggest that there aren't some funny moments, there just aren't a bunch of them. And this movie has Bruce Campbell. How in the fuck do you not use Bruce Campbell as the comedic 'relief' in this film? It's beyond me, really. But, as I've always said, you have to judge a movie as it is and not as you want it to be. Even with the fact that it's not necessarily a hilarious movie, I still found this to be somewhat compelling. The fact of the matter is that the movie has two very interesting lead characters. You have Natalie, a Stanford-educated escort and Mitch, a sex-addicted journalist. Granted, Mitch doesn't reveal his addiction to Natalie right at the beginning. And, if I'm being honest, it doesn't actually play any role in Mitch and Natalie's relationship while we're at it. I suppose it's an interesting angle to write the film. A sex addict writing an article on a woman who sells her body. That's quite the hook. But, realistically speaking, as I mentioned, it's not really relevant to Mitch's relationship with Natalie. That's not to say the sex addiction isn't used to explore Mitch as a character, since it is used. Mitch uses sex, pretty much, as a band-aid for all his real problems. He leads a shallow existence, devoid of any real human connection, outside of his lone friend (who's kind of a dick). Therefore sex gives him what he wants, or what he thinks he wants. Not to mention the fact that his addiction to sex has caused him to neglect his little sister. It's not like it's super deep or complex, but at least they try to explore issues of how his addiction is affecting someone he loves. Same thing with Natalie, they use her past in order to explore how she came to the decision to become an escort. Imagine sort of like an Easy A-type thing, with the exception that, unlike Emma Stone, Natalie indeed does have sex with men. So at the very least, in spite of not being a consistently funny movie, they do try to explore the issues that are at the heart of the characters. While not being a well-known rom-com, at least from what I can surmise, mainstream rom-coms could learn something about this. Just write interesting characters and that's half of the work done. If you could get the comedy down, then you have a recipe for, at least, a good movie. Good movies are hard to make, doubly so for great movies. So just focus on that first. But I digress, the cast is really good. Lyndsy Fonseca and Michael Doneger make a good couple and their chemistry is strong. Watching these two reminds me of how bad the chemistry was between Ashton Kutcher and Tara Reid in My Boss's Daughter (an awful movie to boot). Lyndsy and Michael, thankfully, have chemistry and you can sense the growing attraction between them. The ending is a little too predictable for my tastes, but it is what it is. You've come to expect this from romantic comedies and the tropes are not subverted here. I'm giving this film 2.5 stars simply because it lacks a comedic element that it certainly needed. They tried, but it was just wildly inconsistent. With that said, I still enjoyed a lot of this movie. The cast was good and there was some interesting, if not particularly complex, character development. I can't say that you should go out of your way to watch this, but it's a decent movie in its own right. One that I enjoyed more than the rating would imply.
Jesse Ortega
Super Reviewer
The Escort Quotes
There are no approved quotes yet for this movie.