The Event
(2003)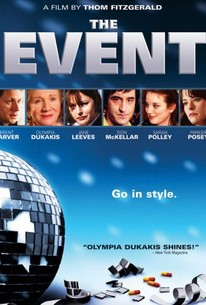 Movie Info
Canadian filmmaker Thom Fitzgerald directs the sentimental ensemble drama The Event. Nick (Parker Posey) is a district attorney investigating several deaths in the gay community of New York City's Chelsea District. It seems that many AIDS sufferers have died under similar mysterious circumstances. Each case suggest the use of assisted suicide, which is illegal in New York. HIV-infected cellist Matt (Don McKellar) has died of a drug overdose following a large party in Manhattan given by his family and friends. Nick first questions his lover Brian (Brent Carver), who runs an HIV support clinic. Still looking for answers, she interviews Matt's closest family members, including his mother Lila (Olympia Dukakis), his younger sister Dana (Sarah Polley), and his older sister Gaby (Joanna P. Adler). Meanwhile, Nick battles with her own past secrets involving her family back in New Jersey. The Event premiered at the 2003 Sundance Film Festival.
Critic Reviews for The Event
Audience Reviews for The Event
A New York DA is investigating a suspicious suicide in the city's gay community. The movie turns into a debate on the pros and cons of assisted suicide. There are a few name actors in this movie (Olympia Dukakis, Sarah Polley, Parker Posey, etc.).
The Event Quotes
There are no approved quotes yet for this movie.