The Expendables 2
(2012)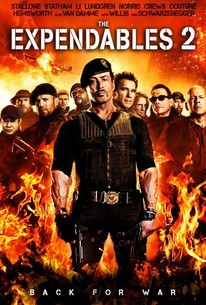 TOMATOMETER
AUDIENCE SCORE
Critic Consensus: Taut, violent, and suitably self-deprecating, The Expendables 2 gives classic action fans everything they can reasonably expect from a star-studded shoot-'em-up -- for better and for worse.
Movie Info
The Expendables are back and this time it's personal... Barney Ross (Sylvester Stallone), Lee Christmas (Jason Statham), Yin Yang (Jet Li), Gunnar Jensen (Dolph Lundgren),Toll Road (Randy Couture) and Hale Caesar (Terry Crews) -- with newest members Billy the Kid (Liam Hemsworth) and Maggie (Yu Nan) aboard -- are reunited when Mr. Church (Bruce Willis) enlists the Expendables to take on a seemingly simple job. The task looks like an easy paycheck for Barney and his band of old-school mercenaries. But when things go wrong and one of their own is viciously killed, the Expendables are compelled to seek revenge in hostile territory where the odds are stacked against them. -- (C) Lionsgate
Critic Reviews for The Expendables 2
Audience Reviews for The Expendables 2
What could have been a tongue-in-cheek, spectacular action show feels like a Botox commercial with everyone patting themselves on the back, Stallone most of all. Characters appear and disappear without reason, just for cheap laughs, after the initial sacrifice no good guy is ever in real danger and just blasts through the dozens of faceless minions that happen to cross their paths. That's as exciting as a postcard of Des Moines, Iowa and as funny as a heart attack. The ironic appearances by Schwarzenegger and Willis hint at what could have been. But what we got is stupid, self-righteous dreck.
Starting off with an opening scene that is already far superior to the entire first film, "The Expendables 2" is the film that should have been a big disappointment, after the first film failed on entertainment, but instead we get an improved story, an improved cast, and action scenes that will literally have you in awe. I have always wanted to see a film that brings together all of the old action heroes and have them team up in one amazing action sequence, picking fun at one another's careers, and honestly, this film does exactly that, and much much more. This is an action junkies wet dream of this decade. "The Expendables 2" is what the first movie should have been and if you are turned off due to the first, please, just forget about it. I promise you, if you are an action film, there is no way you will be let down!
½
Sly and his team of fellow gun-totin' geriatrics is called in to retrieve a computer hard drive that contains a map showing the whereabouts of a mine full of plutonium. The Expendables is probably the film the term 'geriaction' was coined for and it was a load of obnoxious, braindead, gratuitous shit. For the sequel, we once again dive into the world of the American male mid-life crisis which contains the same cocktail of fat-necked has-beens exterminating the most villainous villains imaginable with a variety of weapons grade phalli whilst reliving the good old days of the Cold War. The original film's gleeful representation of some unnecessarily graphic violence was its downfall but thanks to the addition of some innocent villagers to protect, this is far more in the spirit of classic kitsch TV show The A-Team and is much more palatable as a result. The cartoon violence on show here is much less repulsive in its representation, we actually get to see Chuck, Arnie and Bruce join in on the carnage rather than just regurgitating a couple of lines and disappearing as happened in the first film and Jean Claude Van Damme actually makes a far more entertaining bad guy than he ever did a hero. Of course the plot is inconsequential, the characterisation as sophisticated as a hollow point to the face and the dialogue immature and bone-headed, but The Expendables 2 has something the original sorely lacked; the necessary sense of irony and fun which makes it all amusingly idiotic rather than just plain idiotic.
The Expendables 2 Quotes
| | |
| --- | --- |
| Trench: | I'm almost out. I'll be back! |
| Mr. Church: | You've been back enough! I'll be back! |
| Trench: | Yippie-Ki-Yay |
| Trench: | Yippie-Ki-Yay. |
| | |
| --- | --- |
| Lee Christmas: | And by the power vested in me, I now pronounce you - Man and Knife. |
| | |
| --- | --- |
| Gunnar Jensen: | So when are you coming back? |
| Yin Yang: | Maybe soon, maybe never, maybe try a new life. |