The Experiment
(2010)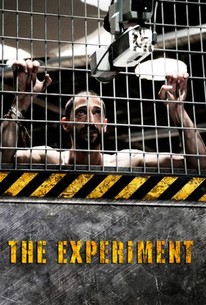 AUDIENCE SCORE
Critic Consensus: No consensus yet.
Movie Info
Das Experiment screenwriter Mario Giordano works with writer/director Paul Scheuring to craft this remake based on the notorious Stanford Prison Experiment. A team of scientists are conducting a psychological experiment that requires the participation of 20 subjects. The rules are simple: one group of subjects will be assigned the role of prison guards, while the others will be assigned the role of inmates. Though the guards are specifically instructed to maintain order without the use of force, no one is prepared for what happens when mutiny erupts, and civility erodes.
Critic Reviews for The Experiment
All Critics (3) | Fresh (1) | Rotten (2)
It's finally impossible not to wonder just what the point of all this is supposed to be...
an average, by-the-numbers movie lifted by two brilliant leads.
Scheuring does summon the energy to end the picture with a The More You Know closer, but it's a laughable period at the end of a baffling sentence...the feature misses a lasting significance by a country mile.
Audience Reviews for The Experiment
A stupid movie about a psychological experiment that makes no sense. The men in the role of prisoners are a bunch of imbeciles in every way imaginable and the ones playing guards are sick sociopaths, so what is the point here? Even worse is the terrible ending.
Carlos Magalhães
Super Reviewer
½
A group of volunteers with no history of violence or criminality are arbitrarily assigned the roles of prisoners and guards in a psychological experiment that spirals dangerously out of control. A remake of a German film, the most shocking aspect of The Experiment is the fact that it actually happened. Essentially showing how the civilised veneer of the human race can be so easily stripped away, these ordinary decent people become savage and twisted in a frighteningly short space of time when their only source of consequence to their actions is a faceless, anonymous but amoral authority figure. The director places the audience firmly in the place of the observer which detaches you somewhat from the situation and removes some of its intensity, but thanks to great performances from Forest Whitaker and Adrien Brody it's a gut wrenching and thought provoking story that makes you wonder just how far we have really evolved from the beast within.
½
Once again, a brilliant foreign language movie ("Das Experiment") is given an English language remake and once again, it fails to do the original justice in any shape or form. If any positives are to be taken from this, then a major one would be it serving as a reminder of how good director Olivier Hirschbeigel's 2001 German film was. Strapped for cash in order to travel to India with his girlfriend (Maggie Grace), gentle mannered political activist Travis (Adrian Brody) decides to take part in a behavioural psychological experiment whereby 20 or so men are chosen to live in a makeshift prison for two weeks. Each of them will assume either the role of guard or inmate but once the doors are locked and they are left to their own devices, things begin to spiral out of control. The fact that this went straight to the DVD shelf when released says it all really. From the offset there are shades of a made for television appearance. This doesn't last for the entirety of the film but the standards don't rise very far above it and the voyeuristic nature of the story will appeal to fans of reality TV shows like "Big Brother". It's strengths, unsurprisingly, lie in the performances; Brody is an excellent leading presence and fine support is delivered by a towering Forest Whitaker but the inclusion of Maggie Grace's love interest is entirely unnecessary, adding little to no substance to the film and could have been completely dropped without it making any difference whatsoever. In retrospect, it's a lazily written script that's the films biggest downfall. Where the original instilled a sense of realism, this version just seems staged. The premise is still thoroughly intriguing though and all the more so, with the knowledge that it was based on a real experiment that took place in 1971 at Stanford University before it all got out of hand. It's decent enough to pass an hour an half of your time but don't expect anything special. It's the performances that make it worthwhile but overall, it's just another example of a completely unnecessary remake. If anyone is unfamiliar with the events or the original German film then this film will go down nicely. However, it'd be wise to seek out Hirschbeigel's version instead.
Mark Walker
Super Reviewer