The Exterminating Angel (El Ángel Exterminador)
(1967)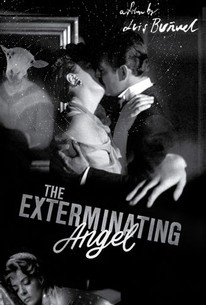 The Exterminating Angel (El Ángel Exterminador) Photos
Movie Info
In this jet black and surreal comedy, a formal dinner party starts out normally enough. After the sophisticated guests retire to the host's exquisite music room, they find that they cannot leave. Hours pass and then days, and as the time plods by, disturbing changes in the formerly-genteel guests occur.
Critic Reviews for The Exterminating Angel (El Ángel Exterminador)
Audience Reviews for The Exterminating Angel (El Ángel Exterminador)
½
Buñuel clearly refuses to be subtle in this sharp allegorical satire (and because of that I only wish he had gone even further and embraced insanity and chaos all the way), using an absurd and quite ingenious idea to give a well-deserved slap on bourgeois values and hypocrisy.
Carlos Magalhães
Super Reviewer
This movie criticizes the strangeness of etiquette with a hyperbolic tale of social rules gone wrong. No one can convince themselves to leave, apparently because no one else has left. Its not as though these rules of propriety have turned us into sheep, its that we were sheep to begin with, and these individuals with their nuanced rules are self-blinded of the suffering society around them. As time passes, or is made entirely meaningless, civility is eroded and these people are revealed to be the horny, hungry, irritable and fearful animals found in the rest of the animal kingdom and social classes. It took someone with a bit of free spirit who very early in the movie, before the whole trapped issue, lashes out by breaking a window for no explicit reason. She locks herself in a closet. People are murmuring to each other how she's still a virgin. They try so hard to turn everyone else into sheep just like them. They are fortunate that they failed.
Matthew Slaven
Super Reviewer
½
A weird satirical piece of work that's thoroughly watchable & fairly enjoyable. Surrealistic movies are generally not my cup of tea, but thankfully, there's more to it here than merely surrealism.
familiar stranger
Super Reviewer
The Exterminating Angel (El Ángel Exterminador) Quotes
There are no approved quotes yet for this movie.