The Fallen Ones
(2005)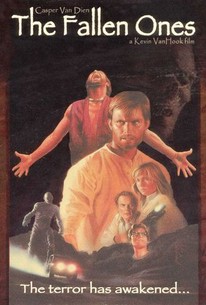 AUDIENCE SCORE
Critic Consensus: No consensus yet.
Movie Info
Kevin VanHook's horror film The Fallen Ones concerns an archeologist who must battle a fallen angel who has come to Earth in order to reanimate a mummified giant and use him to take over the world.
Critic Reviews for The Fallen Ones
Audience Reviews for The Fallen Ones
If you've ever fantasized about seeing a sweaty Tom Bosley in tight bermuda shorts, your ship has arrived. For the other 6 billion people on the planet, stay far away from this made-for-SciFi travesty. This movie actually dares you to turn it off with its continuous parade of bad acting, worse dialogue, and even worse special effects. Yeah, and the Mr.Cunningham thing. Poor plucky Kristen Miller can't catch a break here, the only saving grace in preventing half-star hell.
Doctor Strangeblog
Super Reviewer
½
Plain old awful cheap movie making. Gotta love it. Some poor CGI and even worse green screen combines with the bad script and bland acting to create something almost so bad it's good. The ending has some nice touches including a big mechanical giant that looks real and seems rather inventive, as well as being a fully animated Wicker Man. It is also pointless, not serving the story in any way. A car chase scene which is basically the scene in Jurassic Park also works well. The stupidity just overshadows the film. Some guy called Jerry shows up in a helicopter with just a rifle to take down a 42 foot mummified giant. He is dispatched with in 5 seconds and the film then tries to develop some emotional connection with him. The worst aspect of the film is summed up by one of the last lines "You wouldn't believe some of the strange things that happen" well apparently the main characters in this film would. They are never shocked, surprised or interested in anything, whether it be the discovery of a 42 foot corpse, people going missing, or discovering a fallen angel is behind it all, they act like it's just another day at the office.
Luke Baldock
Super Reviewer
The Fallen Ones Quotes
There are no approved quotes yet for this movie.