The Family
(2013)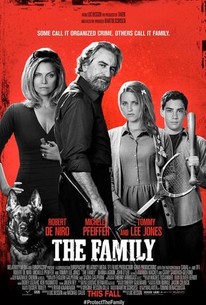 Movie Info
In the off-beat action comedy "The Family," a mafia boss and his family are relocated to a sleepy town in France under the witness protection program after snitching on the mob. Despite the best efforts of Agent Stansfield (Tommy Lee Jones) to keep them in line, Fred Manzoni (Robert DeNiro), his wife Maggie (Michelle Pfeiffer) and their children Belle (Dianna Agron) and Warren (John D'Leo) can't help but revert to old habits and blow their cover by handling their problems the "family" way, enabling their former mafia cronies to track them down. Chaos ensues as old scores are settled in the unlikeliest of settings in this darkly funny film by Luc Besson (Taken, Transporter). (c) Relativity Media
News & Interviews for The Family
Critic Reviews for The Family
Audience Reviews for The Family
This is a Luc Besson film so you know right from the off there's gonna be a slick gun fight somewhere in here. Question is does this story require such a style from the action director? This is a slow paced story about mobsters, an adaptation of a novel called 'Badfellas' which kinda spells it out for you really doesn't it. The plot is easy, De Niro and his family are in the witness protection program to try and start a new life whilst evading the mafioso who are trying to kill them. The reason? because De Niro (an ex-crime boss) insulted a rival mafia boss and then snitched on him after a failed hit attempt. What follows is a black comedy about this violent crime addicted family that are trying to blend into a small French town out in the countryside. De Niro is the ex-mafia boss who gets angry very easily and likes to inflict pain on people who deserve it. Pfeiffer is his wife and she too is a slightly unhinged woman who won't hesitate to resort to violence when upset. Then there are their two kids, one teenage girl who like her mother will beat the shit outta anyone who upsets her. And one teenage boy who is quite clever, influential, sly, manipulative and with skills in fraud...but he can still be violent if needs be. In short this family is kinda like the mafia version of The Addams Family. On the surface they all appear normal but underneath they are all violent, trigger happy, aggressive, untrustworthy lifestyle mobsters that will snap and go berserk very easily. The only difference is they try to keep that darker side under control and under wraps. I guess this film is amusing in places but its awkward at the same time. There are moments which are sorta funny but then there are moments that are pretty nasty and you don't know what to think. Yes its not suppose to be a serious mafia flick but the violence is pretty serious and doesn't stray to far from old De Niro films like 'Goodfellas' or 'Casino'. Seeing the sexy young blonde daughter beat a nerdy French kid half to death, or other girls, is kinda hot but also kinda disturbing. At the same time De Niro gets up to his old movie tricks by beating guys to a pulp with a baseball bat or dragging them along the tarmac behind his car, tied at the ankles by rope that is. The violence is quite graphic at times. So really its every old mafia movie cliche rolled out once again. The fact they cast De Niro in the lead role really makes it even worse because he's done this stuff so many times it not really very entertaining anymore. Add to that your stereotypical looking cast of scrawny old mafia bosses accompanied by big fat henchmen and short squat balding hitmen. Exactly the type of characters you'd expect to see in a film like this, its been done! The big main angle of this black comedy is seeing this hardened New York mafia family trying to fit in with the soft cultured cheese eating French locals, that's it, there is nothing more. Problem is we can't care about any of them because they come across as merciless psychos. The finale is the predicted flashy Besson shootout which does excite somewhat but it too is over pretty fast. Where are all the residents of this town when all the gunfire and explosions kick off?? you'd think someone would get more police. Its also pretty stupid that the bad guys kill all the local police/emergency services and a few residents, that won't gain much attention will it geez! There is just nothing to keep you interested here because its been done about a squillion times before, it couldn't be anymore repetitive and unoriginal. I think the only cliche they left out was casting Joe Pesci.
Phil Hubbs
Super Reviewer
½
Switched off halfway through. Honestly, it was pretty lame. Typical mob comedy. Seen it all before. Dianna Agron steals the show in her scenes, but she's not the main character and the other bits drag.
Nicki Marie
Super Reviewer
For a movie with stars like Robert De Niro, Michelle Pfeiffer and Tommy Lee Jones in it, then "The Family" didn't really live up to all that it could have been. That being said, then I am not saying that this is a bad movie. I am merely saying that director Luc Besson didn't really fully cash in on the potential of the script and the talents of the actors and actresses. And as such, then the movie turned out to be watchable, albeit not overly memorable. The story is about a family running from the mafia, hiding away in Normandy, where they try to blend in and trying to pass as a foreign family living abroad. However, their past is right on their heels and soon catches up. The characters in the movie were good and well-detailed. And they were equally well portrayed by the actors and actresses, and especially Robert De Niro was doing a great job in carrying the movie on his shoulders. "The Family" is the type of movie that you watch once, and then most likely never again. It just doesn't have enough leverage or material to sustain a second watching. 3 Stars 1-1514
Bruce Bruce
Super Reviewer
The Family Quotes
There are no approved quotes yet for this movie.