The Fate of the Furious
(2017)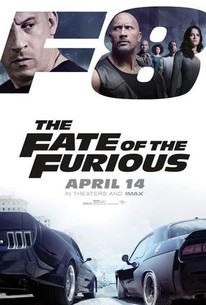 TOMATOMETER
AUDIENCE SCORE
Critic Consensus: The Fate of the Furious opens a new chapter in the franchise, fueled by the same infectious cast chemistry and over-the-top action fans have come to expect.
The Fate of the Furious Videos
The Fate of the Furious Photos
Movie Info
The latest installment of the Fast and the Furious franchise welcomes two Oscar-winning actresses: Charlize Theron plays Cipher, the latest villain to torment Dominic Toretto and his crew, while Helen Mirren joins the cast after publicly lobbying for a role to sate her real-life love of racing. Fast 8 also stars Vin Diesel, Dwayne Johnson, Michelle Rodriguez, Tyrese Gibson, Ludacris, Jordana Brewster, Kurt Russell, Elsa Pataky, Nathalie Emmanuel, Jason Statham, and Scott Eastwood. Directed by F. Gary Gray (Straight Outta Compton).
News & Interviews for The Fate of the Furious
Critic Reviews for The Fate of the Furious
Audience Reviews for The Fate of the Furious
½
Wow so here we are huh, the eight movie in the franchise, this thing just keeps on goin' doesn't it. Obviously by now the entire population of this little blue planet knows how this shitshow works, its not to be taken seriously...at all. Yet despite that clear cut fact I cannot help but tear the opening sequence of this movie apart, and here we go. It begins in Havana, Cuba where Toretto and Letty are having their honeymoon. Conveniently Toretto's cousin is also in Cuba and is having some debt issues with some local petrolhead. Luckily this all takes place at an auto show (randomly in the middle of the city) which is filled with hot women that are basically half naked (won't someone think of the children?). The perfect scenario for Toretto to show his stuff...aww yeah. So Toretto challenges this young guy with a super modified car to a race to get his cousin outta trouble. Unfortunately Toretto only has his cousins broken down wreck of a car to use. No worries, Dom fixes it up within five minutes (mainly using 'Cuban NOS'? Any different to regular NOS?) and its ready to roll. What follows is essentially the backbone of the franchise, how it all started, a gritty illegal street race. They throw this in at the start just to remind you of the franchises roots before it goes all [i]xXx[/i] and [i]Mission: Impossible[/i] on you. Yeah so they have this illegal street race through Havana. All the traffic is stopped merely by two motorbike riders who follow the race and block junctions. Miraculously there are no accidents with other traffic users and absolutely no police presence anywhere. The two cars tear up the city streets with Toretto eventually winning the race in a shit heap that is actually on fire. But no worries because xXx manages to dive out of the car (at top speed) just before it hits a concrete barrier, flies into the air, explodes and lands in the sea. Naturally good old Dom sustains no injuries whatsoever. As said, this is what we're dealing with now with this franchise, complete disregard for anything actually based within the realms of reality (although this isn't the first time, but its gotten way worse). It also makes it very hard to review such a movie because we all know this. We all know its not supposed to be a serious movie, we all know its throwaway popcorn trash that exists purely to provide Bay-esque visuals. So of course on that front the movie succeeds in every aspect, it does exactly what it says on the tin. The flip side is how far can this be pushed before it just becomes fucking ridiculous. The answer to that is of course about four movies ago. Essentially this movie is now practically a superhero flick. All the characters are pretty much invincible and I doubt any will ever be killed off. Hell, if Paul Walker hadn't actually died in real life then I'm sure his character would still be alive and well with the others. But this is a major problem with the franchise (alongside so many other problems). You just don't care about the characters because you know they're invincible. There's no way any of the main protagonists will die, no flippin' way. Even when one does get killed in this movie they end up coming back. All this does is equal zero tension, zero thrills and zero risk. Fuck me even the villain is too big to get killed off it seems, future sequels are gonna have impossibly large casts. And what is the antagonists goal here exactly? The big bad villain (female of course, Charlize Theron) wants to start off a world war I believe it was, why? And in order to do this she needed Toretto's help to get some vital bits and pieces in order to activate a nuclear sub and start a nuclear war. She couldn't do this herself with her henchmen? And in order to keep Toretto under control she kidnaps one of his ex-girlfriends who is pregnant with his child that he knows nothing about. Convenience much??!! I guess you could say she's lucky Toretto is even bothered about this considering its his ex. There is so much stupidity and deus ex machina in this movie its painful, so very painful. The way characters (Toretto) seem to just have secret rendezvous or help outta nowhere, like magic, only to be explained towards the end of the movie. Yeah because that's really clever. There are numerous car chase sequences that are essentially fights with various vehicles, its like watching [i]Transformers[/i]. Each vehicle also seems to represent its driver so Dwayne Johnson naturally drives a huge, hulking 4x4 jeep thing that probably has really shitty fuel economy and moves like a bus. Its also apparent that in these sequences the hero vehicles don't sustain damage...until its clearly unavoidable (because product placement). The same is often seen with weapons, in other words Dwayne Johnson is always seen with a huge shoulder cannon type thing (what's he compensating for?). Then of course you have the finale where they all take on a nuclear submarine and we see a sequence which is pretty much straight outta the school of escaping 'Prometheus' style. Toretto survives a massive blast from a heat-seeking missile striking the sub (as do all their vehicles apparently). Roman is even more of an unfunny idiot but unfortunately doesn't get killed here. Other characters from previous movies such as Tej and Frank Petty merely make up the numbers and continuity. Scott Eastwood is in here for no particular reason, I genuinely don't know why he's there. Statham does the same shit as before and some others pop up blah blah blah, who cares. Oh and Toretto names his son (from the ex) Brian after Walker's character, even though in the movie Brian isn't dead sooo...why? One of the [b]main[/b] problems with this movie (and some others) is the fact that you kinda have to know the previous movies to get everything. Bottom line this is not a good stand alone movie, its not a good movie but even more so because you gotta know the backstories to a degree. Other than that its not much different from the [i]Transformers[/i] franchise for me, just glossy garbage that ticks all the correct boxes. The epitome of modern movies.
Phil Hubbs
Super Reviewer
Despite some plot holes, the Fate of the Furious is able to inject a good amount of fun and excitement towards a franchise already fueled by its over-the-top action sequences and it's cheesy dialogue. The film's star-studded team in front and behind the camera continue to boost this high-octane ride and add more depth into this juggernaut known as the Fast & Furious. 4/5
Eugene Bernabe
Super Reviewer
Since the beginning of this franchise over 16 years ago, this crew has been through street racing, bank robbing, pulling a plane out of the sky, and dropping from a similar plane in the sky. It has been clear throughout every instalment that these films are just going to get more ridiculous. The main question most people will have when going into this film, is why they decided to continue without one of its core protagonists in Brian O'Connor in the forefront. Although he is sorely missed throughout the entire duration of this instalment and there is a clear missing link, I won't lie and call this film a complete waste of time, because I will admit that I had an absolute blast from beginning to end. The Fate of the Furious doesn't do anything new for the franchise, but it's a welcome entry that gives you just enough emotional depth if you have been following this franchise since 2001. Shown in the trailers, the plot of The Fate of the Furious is that Dom goes rogue, going against his passion for family. Here is where the biggest issue with the film occurs, because there is a much larger play going on behind the scenes that can't be spoiled. For that reason, the trailers don't really do this film justice to say the least. I have to get it out there that this film is much better than what the trailers lead on, but also more ridiculous as well. As long as you can buckle up and be ready for the most ridiculous action yet, I believe you will have a blast with this storyline, while also being treated with quite a few heartfelt moments that this series has based its core story around (family). When Paul Walker sadly passed away during the filming of Furious 7, it was apparent that this series was going to have to make a few course corrections. Without giving anything away, there are acknowledgements to Walker's character in Brian, but he is never shown. It is kept vague, while also introducing many new characters (namely Scott Eastwood) to fill the void. There are moments that seem as though the character of Brian may be dead, but many that also insinuate that he is off living a happy life with his family. I quite enjoyed this aspect, due to the fact that is can be seen both ways, keeping his absence tasteful. The newcomers in Scott Eastwood, Helen Mirren, and a few returning characters were all welcome additions in my opinion. This franchise has always wanted to go as far as possible from its street racing roots. It has an overwhelmingly new-found success with its heist and over-the-top action sequences, that I fear it will never return. The best thing it has done in this regard is at least include one race sequence in each film, to keep all fans happy. Of the new generation of films in this franchise, I believe The Fate of the Furious may just have the best one yet. Truly going back to its roots, this film begins with a race that average viewers can have a blast with and the classic fans will be eating up. Since Fast Five, the macho aspect of Dwayne Johnson's Luke Hobbs, comedic interaction between the rest of the crew, and the over-the-top action sequences are truly what makes this film hundreds of millions at the box office. Yes, having the family aspect is what grounds these films in reality in between set pieces, and this film may just have the darkest moments in terms of family to date. Fans definitely receive all of the above and more throughout The Fate of the Furious, but to be perfectly honest, you have to watch these films as if you are sitting in the theatre watching a Marvel film. There are just too many unbelievable things to really latch onto anyone here. I've immensely enjoyed almost every film up until this point, and even I believe the action is at its peak. I am actually a defender of this over-the-top action, but I don't think they should be going any bigger than this, because they may just begin to lose their fan base. If the reality of these films are what made them as popular as they are, this film would've received a failing grade from me, but at this point, if you aren't up for anything, then you simply shouldn't be watching this series anymore. The family aspect is still very much present, they are doing their best to make up for clear absences in their family, the action is as fun as ever, and the dialogue is as cheesy and laughable as ever. You'll either embrace it and love where this franchise is headed or find yourself cringing and wishing that Furious 7 should've been the conclusion. The way I now see it is that Brian has moved on from this lifestyle and Furious 7 ended a chapter in the never-ending novel that seems to be Fast & Furious. This film will not win anyone over who hasn't seen the original seven films, but hardcore fans will eat it up and appreciate the nods and twists throughout. Although it's scarily close to jumping too far over the shark, it hasn't quite done it yet. If you are a fan, I definitely recommend going to check out this bombastic addition to the franchise. It's the darkest, most ridiculous chapter in the franchise, but also has some of the most fun sequences and emotional moments. The final sequence of this film made me feel something that I didn't think I would when going into this film, but I found myself pleasantly surprises. I'm a sucker for these films, so I will probably rate it higher than most, but for what it's trying to accomplish, The Fate of the Furious is pure blockbuster entertainment. For that, it gets the job done wonderfully.
The Fate of the Furious Quotes
There are no approved quotes yet for this movie.