The Feast of the Goat (La fiesta del Chivo)
(2006)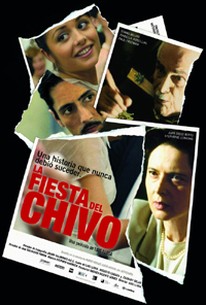 AUDIENCE SCORE
Critic Consensus: No consensus yet.
Movie Info
With his English-language political thriller The Feast of the Goat, action helmer Luis Llosa cinematizes Mario Vargas Llosa's sweeping, epic novel about the myriad of events leading up to the assassination of a real-life tyrannical despot. The story opens in 1992, when a Dominican émigré attorney, Urania Cabral (Isabella Rossellini) leaves her new home in the U.S. and heads back to her native country, for the first occasion in decades. She intends to confront her father, 80-year-old Augustin (Tomas Milian), about his former employment in the government of the supremely corrupt dictator Rafael Leonidas Trujillo (Tomas Milian). The film then flashes back to the events surrounding the assassination of Trujillo on a highway in late May of 1961, by delving into the lives and motives of each of the participants - from Amadito (Juan Diego Botto), whom Trujillo forced to execute his future brother-in-law, to that victim's father (Murphy Guyer), to Antonio (David Zayas), the brother of an incriminating witness whom Trujillo's men executed. One by one, as their stories are disinterred, the assassins gather on a nighttime road, brandishing guns, and prepare to shoot Trujillo and throw his body into the trunk of a car. Paul Freeman, Stephanie Leonidas and Richard Bekins co-star; Llosa co-authored the script with Augusto Cabada and Zachary Sklar. ~ Nathan Southern, Rovi
Critic Reviews for The Feast of the Goat (La fiesta del Chivo)
There are no critic reviews yet for The Feast of the Goat (La fiesta del Chivo). Keep checking Rotten Tomatoes for updates!
Audience Reviews for The Feast of the Goat (La fiesta del Chivo)
Ugh. This is a miscast, misdirected, poorly written film about a particularly viscious period of Dominican history, the influence of which is still being felt today. Set in a country that is predominantly black and mulato (85-90%) we have a cast comprised of people who look nothing like my countrymen and women. The screenplay grossly oversimplifies the nature of the period and much of the dialogue is absolutely laughable. There are, however, a few saving graces. The first is Stephanie Leonidas, a girl I've had a crush on since "Mirrormask" who delivers a strong, brave performance. Despite being British, she is one of the very, very few who genuinely felt Dominican. Whoever played the character of Manuel Alfonso was murderously good. The scene where he, gently, subtly seduces Agustin Cabral to do something specific in order to get back in Trujillo's (the dictator) good graces is masterful. In fact, everything from that scene up until its savage outcome is absolutely brilliant, and belongs in another film. Unfortunitely, so does Isabella Rosellini, who has been great before and no doubt will be again, but is quite bad here. The novel was not a great work, though Mario Vargas Llosa can bet a great writer. And yet it contained within some very interesting themes, and a fierce indictment of the the docile populance which allowed this to happen, and in a way allows it to happen today still. None of this is present in this cheap, Halmark-tv quality picture. Were I not Dominican I might have been more forgiving, but I do sincerely doubt it. It is worth seeing for the above mentioned performances and scenes, but everything else (especially Steven Bauer...this guy is AWFUL...offensively bad...FUCK Steven Bauer in the most uncomfortable of spots...FUCK him until he cries in agony then FUCK him some more) is most definitely not up to par.
The Feast of the Goat (La fiesta del Chivo) Quotes
There are no approved quotes yet for this movie.