The 5th Wave
(2016)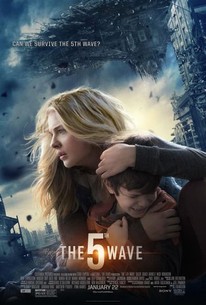 TOMATOMETER
AUDIENCE SCORE
Critic Consensus: With unimpressive effects and plot points seemingly pieced together from previous dystopian YA sci-fi films, The 5th Wave ends up feeling like more of a limp, derivative wriggle.
Movie Info
16-year-old Cassie Sullivan tries to survive in a world devastated by the waves of an alien invasion that has already decimated the population and knocked mankind back to the Stone Age.
News & Interviews for The 5th Wave
Critic Reviews for The 5th Wave
Audience Reviews for The 5th Wave
It's like someone read The Road and went "Oh hey, that was pretty good, I know how I can ruin it!". It's a worse Hunger Games movie than even the last Hunger Games movie was. It's the kind of film where after the opening scene, there is a 40 minute flashback sequence of pure awkward exposition. It's the kind of film that manages to avoid being "offensively bad" by by the skin of its teeth, only because it is instead "embarrassingly bad". It's the kind of film that thinks it's going to get a sequel, so it resolves NOTHING, but that sequel will never happen. I terms of acting? Look, Liev Schreiber was okay, but his role is both minor and beneath him. Chloe Grace Moretz has never been worse. Even Maika Monroe who was amazing in It Follows and The Guest is absolutely awful in this. Everyone else was terrible. There are so many moments in The 5th Wave that had me shaking my head, and the acting, dialogue and plot are all equally to blame. Oh. And the CGI fuckin' sucks.
½
See more reviews like this at chrisbreviews.blogspot.com The plot, I have to admit, is messy. Throughout the film scenes cross between perspectives of Cassie and Sammy. It proved difficult to identify that Cassie was intended to be the main character as more screen time was given to Sammy's experiences in the army which was far more interesting, albeit absurd, than Cassie meeting an untrustworthy older love interest played by Alex Roe. Viewers would be pleased to know that this is another movie adapted from a critically acclaimed young adult book trilogy written by Rick Yancey. The ending does leave breathing room for a sequel which is yet to be announced at this stage. This film very much reminds me of the Divergent series, and makes it very unoriginal even to the extent where it becomes tacky. The possibility of the actions committed in this film occurring in a real-life reciprocation of this situation is highly unlikely. This may seem like an unimportant detail, but it does increase the believibility of the script and therefore will engage the audiences' emotions more effectively (for example, training children in the army in an apocalyptic environment). The decision to make the extra terrestrial to appear in human form was risky, and paid off in terms of secrecy, suspense, and plot twists, but it could also be seen as lazy not to physically bring the aliens to life using CGI. The opening sequence did hook audiences presenting a scene from later in the film. This is hardly an all-star cast, but there may be a few faces you would recognise. People such as Chloë Grace Mortez, Nick Robinson, Live Schreiber, Maika Monroe, Alex Roe, and Ron Livingstone star in the film. None of the acting is stand-out, with much of the cast using their aesthetic as their primary asset. WARNING: Several love triangles ahead. As for the characters themselves; aside from the enigma behind each one, I didn't find most of them very interesting. The only individual character which interested me was Ben (Nick Robinson); Cassie's high school crush. Being forced to step into a leadership role,-an abrupt transition from ordinary high school student- falling in and out of love, acting as a mentor to many, and then becoming a renegade. I'm intrigued to see where his character goes next. I also was intrigued by the chemistry between him and Cassie's little brother Sammy (Zackary Arthur) as co-soldiers without realising their respective relationships with Cassie. Genres include science fiction, action, adventure, romance, and mystery. That is a mixture of genres perfect for a cliché young adult movie. That's exactly what this movie delivered. Mediocrity. But it must be commended that the theme at this film's core is the importance of family; surprising for an apocalyptic movie. To conclude, this film can be missed. The CGI and special effects are fantastic, but the incredibly slow-moving plot with no clear direction that doesn't make sense isn't to be congratulated. It's just another cliché, but there are some plot twists that kept me preoccupied.
Christopher Breen
Super Reviewer
½
In the film, "The 5th Wave" refers to the fifth stage of attacks made on humans by alien invaders. It may also refer to the successive waves of nausea induced by this insipid bit of big budget YA drama-teen claptrap. For those who delight in sci-fi alien destruction movies -- despair. "The 5th Wave" joins the ignominious ranks of alien films that never actually depict the aliens on screen. (The ship shows up for 15 seconds in the sky, but no one ever seems to disembark.) It also may sire an entirely new genre of disaster films that do not actually depict any disaster. Although "The 5th Wave" is marginally entertaining, one cannot resolve the nagging question posed by such an unfulfilling film: "What was the point of that?"
Christian C
Super Reviewer
The 5th Wave Quotes
| | |
| --- | --- |
| Evan Walker: | I hear voices In my head that are quite |
| | |
| --- | --- |
| Evan Walker: | I hear here voices in my head that are quite |
| | |
| --- | --- |
| Ringer: | You want me to shoot you? |
| Ben Parish/Zombie: | Don't pretend you haven't thought about it. |
| | |
| --- | --- |
| Evan Walker: | Love's not a trick. It's real." |
| Evan Walker: | Love's not a trick. It's real. |