The Final Cut
(2004)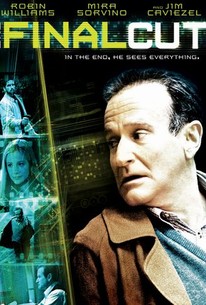 TOMATOMETER
AUDIENCE SCORE
Critic Consensus: The Final Cut fails to make compelling use of its intriguing premise and talented cast, settling for a middling sci-fi drama that never justifies its pretensions.
Movie Info
First-time filmmaker Omar Naim wrote and directed the sci-fi drama The Final Cut. Set in the near future, the story concerns a device implanted in the body that is capable of recording a person's entire life. Once it is extracted from the body after death, the footage can be played back on a screen in the form of "rememories." Robin Williams plays Alan Hakman, an editor who cuts together the footage to make pleasant movies for funerals. Tormented by his job and his own memories, Alan also has a troubled romantic relationship with bookseller Delila (Mira Sorvino). While looking through footage for his next project, Alan discovers a man whom he believes is from his own past. Meanwhile, former editor Fletcher (James Caviezel) wants the footage for his own purposes. The Final Cut was shown at the Berlin Film Festival in 2004.
Critic Reviews for The Final Cut
Audience Reviews for The Final Cut
Technology is developed that allows recording of one's entire life. Why? So that once yer dead your relatives can make a memorial film clip of your life. While not the expected use of such capabilities it's the set-up for Williams to play a man whose job it is to shape those recorded lifetimes into Disney-fied music videos (cue Phillip Glass-like score). Problems herein include the predictable privacy concerns, a dead tech wizard's possibly incriminating and thus exploitable past, as well as Williams own personally troubling past. It's not bad insofar as a interesting sci-fi idea explored goes, but somehow fails to connect. Williams, Sorvino and Caviezel all perform well for the newbie director/writer Naim who only lacks focus IMO., delivering a tale nicely reminiscent of 1950's pulp sci-fi.
Kevin M. Williams
Super Reviewer
God, I hate Robin Williams! One of the world's most overrated actors is terribly pouty and rigid in THE FINAL CUT. He's not alone, though. Most of the top players in this film are awful as well. Between the script's huge deficiencies, the many plot holes, the underdeveloped characters and Fletcher's (Jim Caviezel) fake beard, the film fails miserably, even more so considering its alluring concept. The score by Bryan Tyler is incredible (and that's about it).
Fernando Rafael Quintero Castañeda
Super Reviewer
Interesting concept with a somewhat anticlimactic ending. Robin Williams is understated and slightly creepy as the sin-eating cutter, and I always love Jim Caviezel.
Alice Shen
Super Reviewer
The Final Cut Quotes
There are no approved quotes yet for this movie.