The First Time
(2012)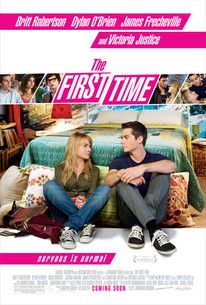 Movie Info
Dave, a high school senior, spends most of his time pining away over a girl he can't have. Aubrey, a junior with artistic aspirations, has a hot boyfriend who doesn't quite understand her or seem to care. Although they go to different schools, Dave and Aubrey find themselves at the same party. When both head outside to get some air, they meet. A casual conversation sparks an instant connection, and, over the course of a weekend, things turn magical, romantic, complicated, and funny as Aubrey and Dave discover what it's like to fall in love for the first time. -- (C) Official Site
Critic Reviews for The First Time
Audience Reviews for The First Time
½
Driven by the vibrant chemistry between Dylan O'brien and Brit Robertson, "The First Time" is the type of film that will only attract a certain audience, and I am happy to say that I am a part of that audience. I really enjoyed this picture. Based around two individuals whom are both dealing with feelings of another person, cross paths and become hopelessly infatuated with each other. Yes, you will probably guess exactly where the film is going by the end, but the actors make you not care about any of the cliches, and it almost makes for a completely fresh indie romance. It has just enough depth in it's script to earn multiple viewings. By the end of the film I had felt like I spent a weekend with these two characters and I admire films that are able to pull that off well. I will say that it is very basic point and shoot filmmaking, however, that is not the focus, so that aspect is easy to accept. This film is all about the build up to whether or not they will go through with their feelings and whether or not they will go all the way, but that was the least interesting aspect to me. This was a very solid film for different reasons. I won't be screaming to the skies about it, but I will definitely recommend this film. Very very enjoyable.
½
In "The First Time," Dave(Dylan O'Brien) is working up the nerve to tell his friend Jane(Victoria Justice) his true feelings about her when he meets Aubrey(Britt Robertson) outside of a party. As they are getting to know each other, they are rudely interrupted by the police who show up to break up the party. Finding shelter at Aubrey's home, they fall asleep in her bedroom before Dave spills wine on her carpet in his hurried attempt to escape out of her second floor window the following morning. In the confusion, he does not get her phone number but rectifies that soon enough, as he arranges to meet Aubrey and her boyfriend Ronny(James Frecheville) at a local multiplex. Starting with its ambitious and extended theatrical opening sequence, "The First Time" gets right the awkwardness of teenagers in all of its glory, expressed well by its likable cast. Plus, the vinyl is a nice touch.(And if there is not a band called "The Joan Cusack Experience," then there definitely should be.) But as many details as the movie gets right, others don't ring as true.(If in doubt, always go for the Almodovar movie, by the way.) Namely, the fact that Ronny is a few years older than Aubrey should be a matter of concern to someone.
Very sweet movie, and one of the more realistic portrayals of young love I've ever seen on screen. It's not a movie where a lot happens, but the characters actions actually make sense...unlike most teen movies. Definitely chick flicky, but I get in the mood for those every now and then.
Cynthia S.
Super Reviewer
The First Time Quotes
| | |
| --- | --- |
| Dave Hodgman: | I wish I could go back to the beginning |
| Dave Hodgman: | I wish I could go back to the beginning. |
| | |
| --- | --- |
| Aubrey Miller: | Why are you smiling? |
| Dave Hodgman: | You dig me. |
| | |
| --- | --- |
| Aubrey Miller: | And as far as what you said before about wanting to keep talking, I'm obviously totally into that. But I would also like to work on the sex thing. |
| Dave Hodgman: | Definitely, we can definitely work on the sex thing |
| | |
| --- | --- |
| Aubrey Miller: | Which one am I? The virgin or the skank? |
| Dave Hodgman: | I've never met anybody like you before. |
| Aubrey Miller: | That's a pretty good answer. |