The Flame Trees of Thika
(1982)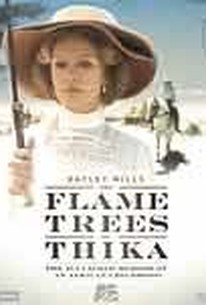 AUDIENCE SCORE
Critic Consensus: No consensus yet.
Movie Info
Based on an autobiographical novel by Elspeth Huxley, this 1981 film tells the story of the Grant family -- little Elspeth (Holly Aird) and her parents, Robin (David Robb) and Tilly (Hayley Mills) -- after they arrive in Kenya to start a coffee plantation. The episodic production begins when a lion greets the horse-drawn carriage transporting Tilly and Elspeth to the site of the plantation. Tilly stares the lion down with the help of a poised shotgun, demonstrating her resolve to make a go of it in the rugged new land. After the Grants construct a home with the help of Kikuyu natives, they hold a housewarming attended by neighbors Hereward (Nicholas Jones) and Lettice Palmer (Sharon Maughan), fellow Brits who have also settled in Kenya. Meanwhile, 11-year-old Elspeth revels in the land, the wildlife, and her new Kenyan friends. While her parents are away, Elspeth stays with Mrs. Nimmo (Carol MacReady), a Scotswoman who corrects the little girl's manners and makes her dress formally for dinner. During the day, Elspeth travels back and forth to her home on a pony to feed her pet deer and pet chameleons. On one trip, she meets and makes friends with Englishman Ian Crawfurd (Ben Cross), a newcomer. After her parents return and host the Palmers and Crawfurd at a get-together, Crawfurd and Lettice Palmer, who is bored with her husband, Hereward, and Africa, fall in love and begin an affair. A leopard carries off a dog Lettice cherishes, and everyone joins in a hunt for the animal, including wily Boer huntsman Mr. Roos (William Morgan Sheppard). On the hunt, Lettice and Ian Crawfurd, whose affair has become obvious to all, provoke Hereward. Ian and Hereward brawl. A native whom Hereward insults with a racist remark stabs Hereward, but he survives. When the first World War begins, Robin and Ian both do service. Will they come back? That is the question that gnaws at Elspeth and her mom -- and Lettice -- while life goes on at Thika. ~ Mike Cummings, Rovi
Critic Reviews for The Flame Trees of Thika
Audience Reviews
There are no featured reviews for The Flame Trees of Thika at this time.
The Flame Trees of Thika Quotes
There are no approved quotes yet for this movie.