The Flintstones
(1994)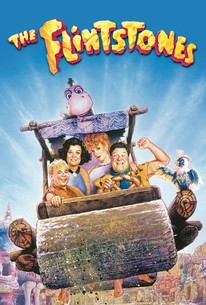 TOMATOMETER
AUDIENCE SCORE
Critic Consensus: The Flintstones wastes beloved source material and imaginative production design on a tepid script that plunks Bedrock's favorite family into a cynical story awash with lame puns.
Movie Info
The good (if not fully evolved) citizens of Bedrock make their way to the big screen in this live-action adaptation of the popular animated series of the 1960s. Fred Flintstone (John Goodman) and his best friend Barney Rubble (Rick Moranis) work together at the Slate and Company Rock Quarry. When Fred loans Barney some money that allows him and his wife Betty (Rosie O'Donnell) to adopt a child, Barney is looking for a way to show his gratitude. Barney thinks he's found one when the executives at Slate and Company announce that they're giving all their employees intelligence tests to help determine future promotions. When Barney switches his high-scoring test with Fred's, his plan works -- but not quite the way he had hoped: Fred is deemed executive material and given a big promotion, complete with a sexy secretary (Halle Berry) who makes his wife Wilma (Elizabeth Perkins) jealous, while Barney is soon out of a job and can't pay his bills. Bill Hanna and Joseph Barbara, who created the original television series, make cameo appearances here; Elizabeth Taylor gives a fine comic performance as Wilma's nagging mother, and Harvey Korman provides the voice of the Dictabird. ~Rovi
News & Interviews for The Flintstones
Critic Reviews for The Flintstones
Audience Reviews for The Flintstones
½
The Flintstones was one of those films that I really enjoyed when I was younger. Years later, however the film doesn't hold up. I found that despite the two lead roles (which were well casted), the film didn't have anything good to offer. The plot seems a bit too complex for children, and I remember not fully understanding the film when I was younger. The film suffers from quite a poor plot, and it's the main reason why this film misses the mark. The film does have a highpoint, the film looks great and that's about it. The films sets look stunning. However aside from John Goodman and Rick Moranis, the actors here are terrible. A live action adaptation of the classic TV show wasn't the best idea, and the end result of this film showcases that point perfectly. The film tries to have a serious plot to add to its already silly plot, and it doesn't work. Director Brian Levant proves once again he's a sloppy director and can't craft an excellent family film. The Flintstones is a very forgettable family film, and it joins the countless awful family films that has plagued cinema in the last two decades. There are some great family films that are still watchable today, however, this one doesn't stand out, and it's laughably bad. The Flinstones is the type of film that when you're a kid, you enjoy, however when you grow up, you ask yourself "Why did I even like this crap?" This is a pointless film that might have been good, but is ruined by an awful script, bad directing and sloppy acting. Avoid this film. There are so many better family films out there.
Not a good companion to the funny tv series. The plot and humour is its main flaw.
Directors Cat
Super Reviewer
Barney Rubble: You know, Fred, I hear that eatin' too much red meat is bad for you. Fred Flintstone: What a load of bunk! My father ate it every day of his life and he lived to the ripe old age of thirty-eight. "Yabba-dabba-doo it." Probably one of the worst and most brutal family movies I've ever sat through. I watched the whole thing, but I hated myself for every wasted second. This movie is made for the Rosie O'Donnells of Hollywood; not for Rick Moranis, John Goodman and Elizabeth Perkins. This movie is so far beneath the three of them. It's a disaster from start to finish and there is no possible way the makers of this movie could have thought this was going to turn out good. If you like your jokes to be about rocks, stones and slate then this is your movie. But know what you're getting yourself in for because every joke is about rock, stones and slate. That's it, nothing else, besides the most annoying quote in the world from Fred Flintstone. I really don't think many kids would find this all that entertaining either. If I had watched this when I was a kid, I know I wouldn't have liked it.
Melvin White
Super Reviewer
The Flintstones Quotes
| | |
| --- | --- |
| Pearl Slaghoople: | Look at him, drunk as a skunk-o-saurus! |
| | |
| --- | --- |
| Mr. Slate: | There goes the best executive I ever had. |
| | |
| --- | --- |
| Fred Flintstone: | Hey, Barn. Could you spare me a couple of bucks? because I'm a little short. |
| Barney Rubble: | Here you go, Fred. Nothing's changed. |
| | |
| --- | --- |
| Store Manager: | Excuse me, Mrs. Rubble? |
| Betty Rubble: | Yes? |
| Store Manager: | There seems to be a slight problem with your credit card. |
| Betty Rubble: | Really & what would that be? |
| Store Manager: | It's no damn good! |